5 Main Electrical Hazards – Quick & Easy [Updated for 2023]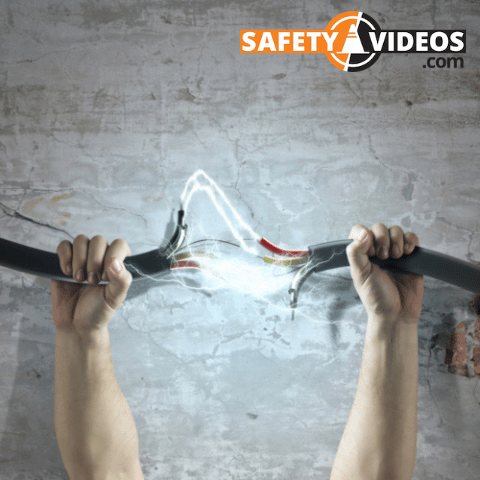 We have become so accustomed to electricity that it has become an afterthought. This doesn't make it any less dangerous or powerful. Even a qualified electrician is prone to severe burns, electrical shock, fires, and other electrical hazards. That's why keeping your employee safety training program up to date is critically important.
Your company's main goal in improving electrical safety should be to reduce work-related death, injury, and ill health by implementing the correct electrical hazard procedures. Learn more about each common hazard and how you can increase the safety for your employees who work with electricity, electrical panels, etc. We will cover 5 of the main electrical hazards that can occur in the home or at work. We also have an Electrical Safety Toolbox Talk that you can check out as well.
1. Pass to Ground Is Missing or Discontinuous
How often have you discovered an extension cord or electrical safety tool missing its ground prong? The path to the ground from circuits, equipment, and enclosures must be continuous and permanent. The most common OSHA violation from a certified electrician is the improper grounding of equipment, making this a primary hazard.
Electrical equipment that was originally designed and provided with a path to the ground is frequently unable to transfer "fault current" to the ground on-site because the ground prong has been accidentally or purposefully broken off. When a fault activates on exposed electrical parts, the path to the ground, also known as the "ground wires," is designed to carry the "fault current" to the ground.
Tips to avoid this hazard include:
Every power source, electrical circuit, and equipment must have proper grounding. Electrical systems must be regularly inspected to verify that the path to the ground is continuous. It might be necessary to hire a qualified expert to inspect more sophisticated electrical systems.
Never take the ground prongs out of an extension cord or power cord. Use tools and equipment that are double-insulated.
Ground all equipment components with exposed parts and metal components of non-electrical equipment.
Any nearby outlet should be protected with plastic closures. These fit directly over the socket to stop sharp objects and fingers from entering.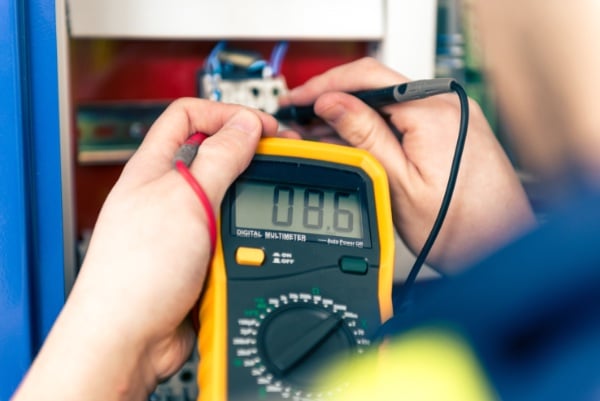 2. No Ground-Fault Protection
To maintain systems consistently and safely based on the loads they support, a system of ground fault protection is essential.
A ground fault happens when a conductor at a voltage different from the ground (the earth) comes into contact with another conductive material linked to the ground. This may result in transient or continuous overvoltages, under voltages, and unwanted single-line-to-ground fault currents, depending on the type of grounding system implemented. These defects, if not isolated, can potentially cause system damage, personnel harm, and potentially the emergence of larger-scale errors.
This electrical hazard is commonly caused by excessive wear of electric appliances. It breaks insulation and exposes wires. Without fault protection, contact may transmit electricity into a worker's body.
Regularly inspect and perform maintenance on electrical tools and equipment, and extension cords for damage.
Electrical hazards on construction or renovation sites when working outdoors must be controlled through the use of Ground Fault Circuit Interrupters (GFCIs)
The right personal protective equipment (PPE) is part of safety procedures for any task, and electrical work is no exception. Ensure you're wearing PPE when handling ground fault protection systems.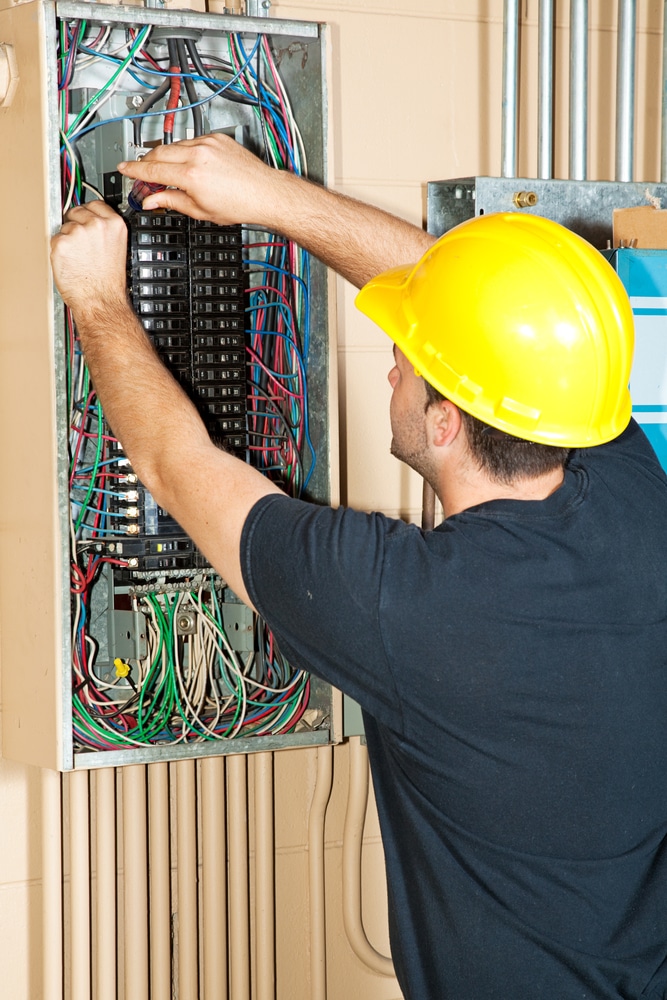 3. Electrical Equipment Not Used in Manner Prescribed
When we use something we've never intended to use correctly, we could accidentally destroy equipment or put people's health at risk.
The safety features that the manufacturer built into electrical equipment are no longer reliable if they are used in ways for which they were not intended. Your equipment could be harmed, and there could be worker injuries or electrical incidents.
Here are ways to minimize the risk of improper use of equipment:
Ensure that all equipment is used in accordance with the manufacturer's instructions and OSHA criteria
Never alter extension cords or use them improperly
Check to see if shop-fabricated or modified equipment complies
Implement maintenance and repair work programs
Be careful in wet conditions
Keep equipment 10 feet away (or more) from overhead power lines
4. De-energized Parts
Before an employee works on or near live components to which they may be exposed, the exposed electrical parts must be de-energized. This is true unless doing so would present new or increased risks or would be impossible due to the design of the equipment or operational constraints.
Extra hazards may include:
Interrupting life support systems
Deactivating emergency alarms
Shutting down hazardous location ventilation systems
Removing lighting for a specific area
If there are no elevated risks of burns or explosions caused by electric arcs, live items that run at less than 50 volts to the ground do not need to be de-energized.
Here are some tips for de-energizing:
Any wires and components of electrical equipment that have been de-energized but have not been properly locked out or marked should be treated as energized.
Any time an employee may come into touch with de-energized circuits or portions of fixed electric equipment, the circuits supplying power to those parts must be locked out, labeled, or both. A qualified individual must test the circuit to confirm de-energization from all voltage sources.
Before de-energizing circuits or equipment, safe de-energization methods need to be established. Disconnecting all electric energy sources is necessary to secure power lines. Push buttons, electric switches, and interlocks are examples of control circuit devices, but they shouldn't be the only ones used to turn off circuits or machinery. There must be locks.
Be aware of the dangers of employees working near or underneath overhead lines. Contact the utility company first if work must be done near a power line.
5. Improper Use of Flexible or Extension Cords
Most electrical devices can easily be worn out with regular use. It may pierce and break down cables, creating shock hazards. Modified electrical cords increase the risk of shock if not met by safety agencies. The Consumer Product Safety Commission stated that electric extensions were responsible annually for nearly 6,000 home fires that killed and injured around 400.
The most frequent cause of these types of fires is inadequate wiring, overload damage, circuit board damage or malfunction, and damaged cords. Always look for the best information about the electrical safety of electrical cords to avoid bad wiring.
Extension and flexible cords might loosen or expose wires due to regular wear and strain, which can lead to dangerous situations. Your danger of fire and contact with electrical current is increased by cords that are not 3-wire type, are not intended for heavy usage, or have been modified.
Keep the following in mind when working with these cords to reduce common electrical hazards:
Use cord sets that have been factory assembled.
Stick to 3-wire extension cords exclusively.
Only use extension cables designated for hard or extra-hard usage and labeled with a code.
Only employ strain-relieving cords, connection hardware, and fittings.
Regularly check and audit the wires at your workplace. Any modified cords or cords that aren't labeled for hard or extra-hard use should be removed from service right once.
Why Is Electricity So Dangerous?
Most of us have been subjected to some level of electric "shock," in which electricity causes harm or pain to our bodies. If we're lucky, the worst that happens is tingles or jolts of pain caused by static electricity discharged through our bodies.
Electric shock becomes a far more serious problem when working near electric circuits and equipment that may provide tremendous power to loads, and discomfort is the least important side effect of shock. Damaged, worn, or corroded electrical wires can increase the chances of electrical accidents. Electricity can cause other dangerous situations that can cause fires and injuries. These may include:
Short circuits
Overloaded circuits
Overloaded wires
Arc flashes
The two major risks to electric power are electrical shock and flash. It is dangerous because it can tamper with the electrical parts impulses that the body needs to function properly, therefore making it very hazardous. It can result in muscle contractions, heart failure, and burns. Additionally, it can result in paralysis, which increases the risk of accidents like falls. We do have a write-up on arc flash safety tips that you can check out as well.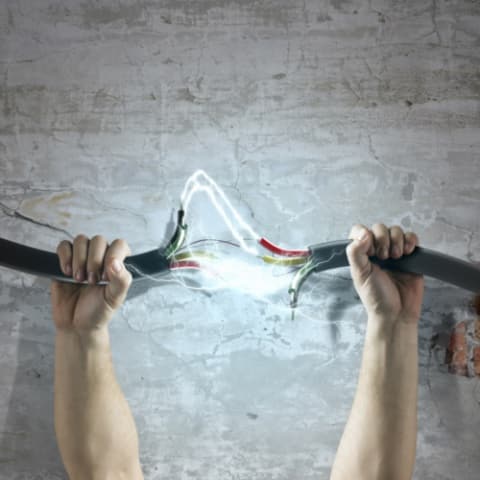 The Facts on Hazards
The number of electrical hazard fatalities in the United States rose to 166 in 2019, a 3.75 percent rise over 2018, and the highest number since 2011.
There are potentially dangerous electrical safety hazards in every home, office, and factory. Most professionals are unaware of the potential electrical hazards present in any work environment. This puts them at greater risk of hazards.
How Do You Avoid Electrical Hazards?
The answer is always to come with the right systems. A Safe System refers to safe working conditions and is started by acknowledging those responsible with regard to electricity. This has often been called a duty-holder structure.
Various levels of organization differ depending upon the size of the company and the work it undertakes. It is important to regulate all those that control electrical safety.
Storing materials and equipment at least ten feet away from overhead power lines and using double-insulated tools and equipment are other important preventative measures.
Take Risk Assessments
Risk assessment is a key component in ensuring safety and ensuring the proper functioning and performance of the systems of work. For high-tech systems working at low or high voltage, arc flash and arc explosion are serious issues and need evaluation. We have specific training on arc flash safety that you should also check out.
Working inside powered panels is also a very important task, as is work that involves live work. All relevant products used in the workplace must adhere to the electrical safety requirements of the Electrical Work Safety Regulations 1989 to avoid an arc flash or more serious incidents.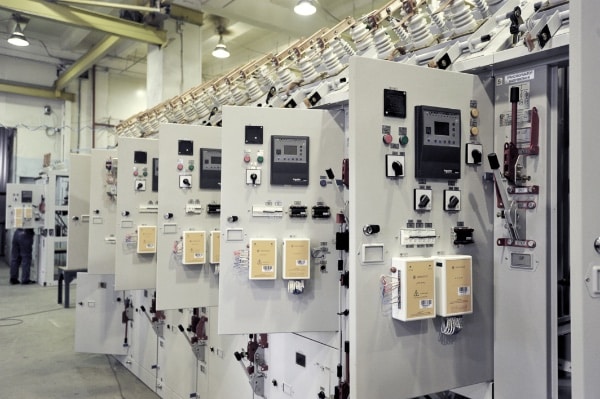 Good Electrical Safety Management
Safe Places starts with a properly constructed electrical system, including inherited or aged systems. Generally, all electrical equipment should have such construction that the system can prevent any possible danger.
Electrical equipment is naturally designed according to the design requirements by competent professionals who follow the safety procedures of the operation. These devices are required to work efficiently to prevent common electrical hazards.
Train Safe Workers
Qualified persons are defined as competent persons who carry out work on electrical systems. This is someone who knows how to do a job, understands the training, and can identify electrical hazards.
Whether you work in the construction industry, do an electrical installation, or are one of the office workers in a building, serious injury can easily occur with electricity.
Basic electrical safety precautions include:
Knowing how electricity works
Identifying and eliminating electrical hazards
Wearing the appropriate PPE (personal protective equipment)
Using electrical protective devices where possible.
Most experts know about electrical hazards, so electrical accidents are often the result of people attempting a shortcut or becoming comfortable using an unsafe approach and ignoring safety procedures. This time, he may be lucky when he works near power lines – but next time, it may be an entirely different story.
Avoid Electric Shock and Other Injuries with Good Leadership
Electrical safety is a must for any working environment. In addition to supplying workers with personal protective equipment, safety training should also be a top priority.
If you're unsure where to start with improving your safety plan, go through each common hazard, identify which is prevalent on your worksites, and follow regulations on how to improve conditions.
Now that you know the five most common hazards, it's highly recommended that you use these as a guide to identifying how your safety procedures can be improved.