Skid Steer Toolbox Talk – [Quick & Easy for 2023]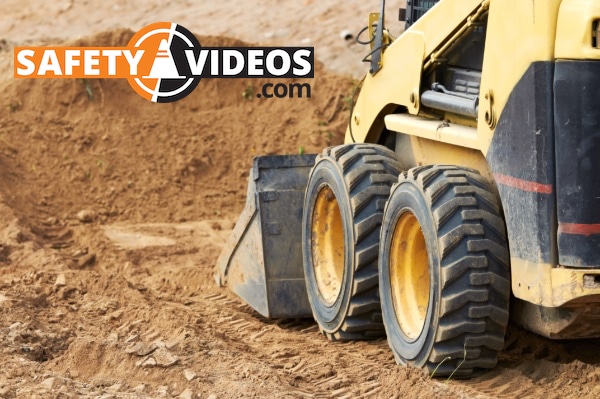 Skid steer loaders are convenient loading and maneuvering machines that are valuable in several industries. Their small size means they can get into confined areas. Even though the machines are not large, they can be dangerous. Operating them comes with several risks for operators and ground workers.
It is essential to be aware of the kinds of risks and hazards posed by operating the machine so that accidents can be avoided. There are industry best practices in place that everyone working with skid steer loaders should be aware of. We will explore all aspects of safety in this skid steer toolbox talk. You should also check out our video based Skid Steer Certification training as well.
What are Skid Steer Loaders Used for?
Skid steer loaders are a type of front-end loader equipment. They are frequently used in the landscaping and construction industries. They are also commonly used in the agricultural sector, such as for farming operations in dairy and beef farms, as well as in piggeries.
They are typically used to help move construction or farming materials from one place to another as necessary. Their compact design allows them to be used in small areas, and in those with low ceiling clearances. Skid steers are used for a variety of reasons on construction sites, road crews, farms, and much more.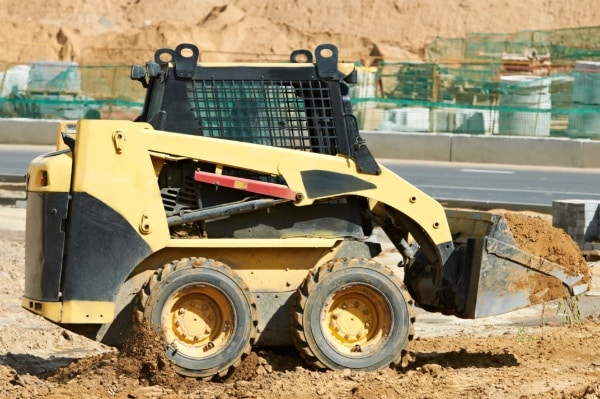 Hazards or Risks Associated With Skid Steers
There are several risks that come with operating skid steers. The machines are, in fact, responsible for many serious injuries and deaths every year. The machine design factors paired with the potential for operator error are major aspects in the cause of mishaps.
Operators thus need to be aware of the hazards, and how to operate appropriate equipment and practices to help avoid accidents.
Some Areas That Skid Steer Operators Need to Pay Careful Attention To:
Struck-by Incidents
People working around skid steers are under serious threat of being hit by them unless great care is taken. Struck-by hazards are serious as they can potentially cause severe injuries or even death. The machines are often used in high traffic areas, i.e., in the case of building or road construction. This means they can potentially hit pedestrians, cars, site workers, or other machinery.
Operators often need to reverse the machines as part of their work, which heightens the chances of people around them being struck. Skid steers also have blind spots, which make it difficult for operators to see people or items in the way at times.
Pinch-Point Hazard
The design of the skid steer involves many interconnected, moving parts. This means people can get body parts caught between these points. This can cause serious injury.
Crushed-By Hazards
There are two main ways in which working with skid steer loaders poses a crushing hazard:
It is possible for the operator to get crushed when entering or leaving the machine. Drivers get into the machine by going in the front of it, over the loader bucket. The levers to control the vehicle are placed in between the lift arm pivot's front and the arms. Accidents occur when the operator inadvertently activates parts of the machine with a foot or hand when entering it. The loader and arms especially can pin or crush the driver.
Ground personnel may also get crushed in a few types of incidences. A ground worker may get pinned or crushed by the skid steers and other materials or objects if they get in the way or if the machine is inadvertently activated.
Overturn Risk
While the skid steer design has good balance, machines can overturn if the center of gravity falls outside of its base of stability. This can happen if the machine is working on steep terrain or pulling heavy loads that may destabilize the machine's base of stability. The machine may also overturn if the operator makes sharp turns at high speeds.
Groundworkers and operators can incur severe injuries in overturn accidents, making them a huge risk.
Maintenance Hazard
Many accidents occur when the skid loader is undergoing maintenance. Numerous serious injuries occur every year during maintenance practices. Mishaps typically happen when someone is working around the loader or its raised arms, and they fall.
The automatic safety switches in the vehicle should be engaged when doing maintenance, and the arms should always be blocked up or otherwise secured to prevent these kinds of accidents from happening.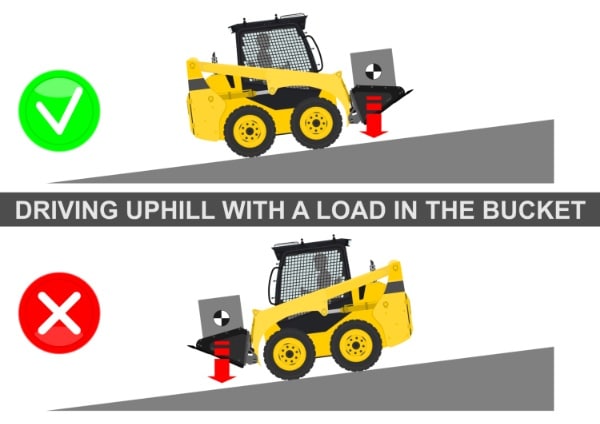 Skid Steer Machine Safeguarding Mechanisms
Several skid steer accidents can be avoided if operators use and maintain the machine's manufacturer-installed safety equipment as per regulations. Industry standards and Occupational Safety and Health Administration (OSHA) protocols regulate the installation and use of the machine's safe equipment.
Most skid-steer loaders have the following features installed:
Lift arm supports
Interlocked controls
Belts
Roll-over protection structures (ROPS)
If it is necessary to operate or move around a skid steer when the loader is raised, and the controls are unattended, then manufacturer recommendations state arm lift supports should be used. The arms will stop the loader from falling unexpectedly and injuring a person in the vicinity. More modern models may have supports that can be activated from the operator's compartment.
Interlocked Controls
Interlock control systems prevent the skid steer from being used unless the operator is positioned and belted in properly in the cab. Many designs will not work unless the seat belt is in use. Other control types sense when the driver has left the operator's seat and has shut the machine down.
Other designs may also have a restraint bar that needs to be lowered in front of the driver for the machine to start. It is best to use this kind of attachment as they were designed and not override them.
Seat Belts
Seat belts should always be worn when operating a skid steer. They can offer several forms of protection to the driver.
Belts keep the driver secured if the machine bumps or crashes into another object.
If combined with ROPS, a belt keeps the driver in the protection zone if there is a rollover.
When they form part of an interlock system, they prevent the driver from being pinned between the frame and arms.
The belt also keeps the operator secured when operating on rugged, bumpy terrain where there is a risk of the driver being thrown from the vehicle.
Side Screens and ROPS
Screens and roll-over protection structures (ROPS) help to prevent skid steer operators from being tossed out of and then possibly crushed by the machine in the event of tip overs.
The ROPS typically forms part of the cab's enclosed design. It comprises rear and side grate screens made of metal. This helps keep the operator's body parts inside the compartment. it is critical that ROPS never be modified…if they are, the operator is putting themselves at a greater risk for death or significant injury in the event of a rollover.
Tips for Safe Usage
Besides making optimal use of skid steers' safety features, there are other ways to ensure the reduction of risk when using the machine. These methods involve checking the various parts of the vehicle frequently to ensure all of them are working optimally.
Skid Steer Pre-shift Inspection
Before beginning the day's work, it's best to perform a few routine checks. This can help minimize the chances of something going wrong with the machine during operation, which may ultimately prevent possible injuries.
There are several checks operators and skid steer ground workers should perform. These include checking the following for possible issues:
Hydraulic fluid
Fuel and oil levels and parts
Cooling system fluid
Cylinder pivot and arm points
Operator cabin
Restraint bar
Seat securing
Tires
Interlock systems
If you notice any leaks or other damage to the hydraulic system, repair it without delay. A problem with the hydraulics could prevent the arm from functioning optimally. If there is less control of this part, it could lower too fast, causing injury to workers below or damage to property.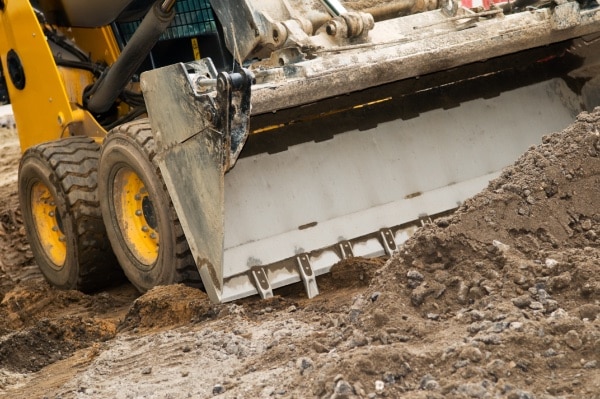 Read the Skid Steer Operator's Manual
This sounds obvious, but people often neglect to read the skid steer manual. By reading the guide, you'll be able to recognize essential operative features such as warning indicators. Only operators who have read the manual and who thoroughly understand how to work the machine should drive it.
Operators should know how to:
Stay seated.
Operate all levers and controls.
Safely operate the machine.
Load, secure, transport, and offload the skid steer safely.
Get into the machine. I.e., with the load bucket lowered.
Wear head and ear protection.
Grab handles and use treads enter and exit the loader.
Attach belt and seat bar attachment.
Keep the loader or other parts low.
Operate loading and unloading mechanisms.
Pivot the machine safely.
Drive the machine on level and rough terrain.
Face the machine's heavy end uphill.
Watch overhead for roofing, power lines, etc., when raising the bucket.
Put on the brake and lower the loader before exiting the machine.
Other tips:
Don't carry passengers.
Don't use the loader as a work platform or to lift people.
Whether it's your own machine or your employer's, do not allow children into or on the skid steer.
Maintenance
You'll also find key information regarding how to maintain the skid steer loader in the manufacturer's guidelines. The manual will guide you on how to clean and maintain each part of the machine.
It is essential to regard warnings and use interlocks and safety devices as indicated by the manual. You should also block or chock parts that may have stored energy that may be released when they are being maintained.
The manual will also advise you not to remove or deactivate any shields, guards, or other safety mechanisms during maintenance unless specified.
Some Maintenance Tips:
Ensure the parking brake is on when servicing the vehicle.
Lower the loading bucket.
If you need to service the machine with the bucket up, use lift arms to support it.
Inform anyone around the machine that work is being done.
Keep children and animals well away from the machine and servicing area.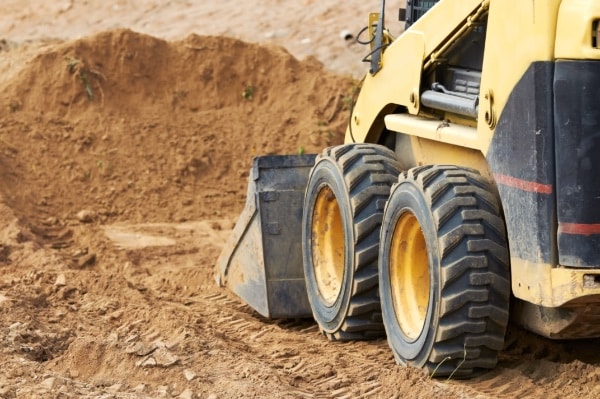 Manufacturer Standards
Skid steer manufacturers must provide:
Warning decals
Operation and maintenance instructions.
Seat belt and ROPS.
Side screening.
Means to stop the arms lowering when the driver is entering or exiting.
Steps and holds for safe entry and exit.
Two accesses for emergency exit.
Safety signs and directions to warn of risks during operation and maintenance.
A horn.
Scissor point guards.
Skid steer owners and operators must:
Apply brakes, set in neutral, and lower loader buckets when the machine is being serviced or is parked.
Not modify the machine in any way that may impact safe operation without the manufacturer's approval (written). If changes are approved, vehicle safety signs and directives must reflect the changes.
Skid Steer Toolbox Talk Final Thoughts:
The chance of accidents occurring when working with skid steer machines is a major concern, unfortunately. However, mishaps may be avoided by exercising caution. Be sure to always adhere to the recommended industry practices as indicated by our toolbox talks to help prevent accidents and injuries from occurring.