15 Best Safety Tips For Work – [Updated for 2023]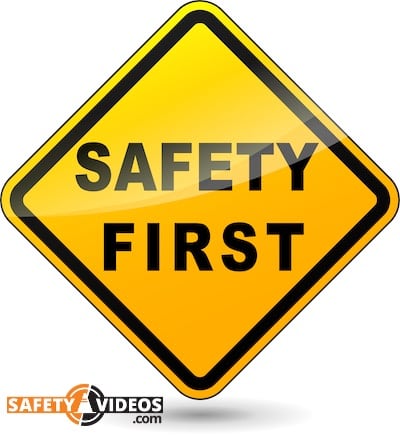 For the safety and health of everyone involved, it's vital for all workers to stay on top of new safety procedures in the workplace, including making sure all new employees receive the proper training to do their jobs safely.
Keep reading for a full list of essential workplace safety tips, as well as information about the ways in which prioritizing workplace safety benefits your employees, your business, and your company's reputation. If you are looking for the best safety tips for work then look no further. Oh, and if you need the best construction safety tips, we have those too.
15 Important Workplace Safety Tips
To put together a detailed list of protocols that make sense for your workplace, keeping abreast of current workplace safety tips and standards is helpful. Implementing the following guidelines into a workplace safety program customized to your business's specific needs will ensure a safe work environment for all employees.
1. Follow All Relevant Safety Procedures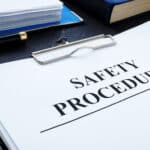 Host regular trainings to ensure everyone is on the same page when it comes to creating and maintaining a safe work environment. Employees should thoroughly understand all safety guidelines associated with their work, such as how to operate all machines properly. The procedures for safely operating machinery in the workplace should be clearly posted in a place where all employees can see them.
Additionally, employees should be made aware of the location and operation procedures of any emergency shutoffs in the workplace.
If you're ever uncertain of the proper safety procedures for a given task, make sure to check with your manager or other employees rather than trying to figure it out yourself.
2. Report Unsafe Conditions Immediately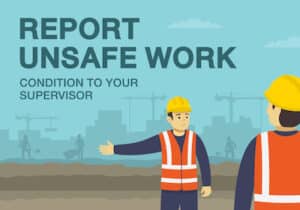 In order to ensure a safe workplace for every employee, workers should be encouraged to report unsafe conditions of any kind the minute they notice something wrong. This necessitates keeping all employees educated on new safety procedures and current workplace safety tips. You must also ensure that everyone knows who to report potential hazards to and how.
By calling attention to unsafe conditions before they cause injury or spin out of control, employees will be working together to create a safe environment for everyone.
3. Always Wear Personal Protective Equipment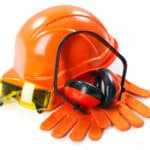 Proper PPE is an essential part of workplace safety for many industries and places of business, including factories, hospitals, construction sites, and food preparation facilities. Any time your employees are on the clock, they should be wearing the proper safety equipment for the task they've been assigned to complete. For example, welders should wear safety gear such as gloves, a breathing mask, a welding helmet, proper footwear, and other personal protective equipment designed to keep them safe while on the job.
Without appropriate safety equipment, employees run the risk of injuring themselves and others. Make sure your employees have access to the proper safety gear for their jobs at all times. Extra PPE for employees should be one of your regular company purchases so that everyone can do their jobs without compromising their safety.
4. Take Regular Breaks
Taking breaks is an important part of maintaining workplace safety, and is mandated by law in several states. Going on break gives employees some time during the day to unwind, de-stress, and eat a meal to regain energy and focus. Employer-sanctioned breaks improve productivity and morale. They are a key feature in the culture of every ideal work environment.
Encourage employees to remind their co-workers to take their regularly scheduled breaks at the appropriate times. If you have a larger office space, consider setting up a break room where workers can relax and eat their meals away from the main workplace.
Even employees who work from home should be taking breaks at regular intervals. Just standing up from your desk for five minutes or taking a quick walk around the block will go a long way toward improving your performance and attention level at work.
5. Remain Aware of Your Surroundings at All Times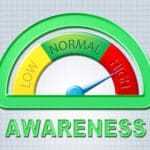 Every work environment comes with its own set of dangers, from heavy machinery and conveyor belts to forgotten or misplaced items in the office that could constitute a tripping hazard. It only takes a few seconds of inattention for a potential danger to become an unavoidable accident.
The best way to avoid injury while on the job is to be constantly aware of your surroundings. Employees who remain tuned into their surroundings are more likely to spot unsafe conditions before they cause injury or damage to the facility.
6. Follow All Emergency Protocols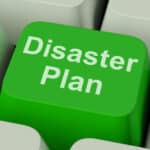 Every employee should know what to do in the event of an emergency. Guidelines for emergency preparedness should be posted in a high-traffic area of the workplace, and all employees should know where to access emergency materials such as first aid kits and fire extinguishers.
In the event of an emergency, employees who have been educated and trained on emergency protocols for their workplace will be better equipped to comply with said protocols calmly and efficiently, thereby lowering the risk of injury and increasing the likelihood that everyone will be able to exit the building safely.
7. Reduce Stress in the Workplace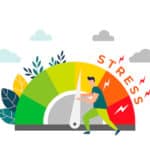 Most jobs feature an element of stress, whether it's lifting heavy objects for hours at a time, fielding questions from irate shoppers, or handling a tense business deal. Employees who experience high levels of stress for extended periods of time are more likely to suffer health problems and could end up making costly mistakes due to exhaustion, lack of concentration, and burnout.
Taking steps to combat workplace stress will go a long way toward keeping your employees safe from the hazards associated with loss of focus and anxiety. One possible solution is to have a break room stocked with soft furniture and snacks where employees can take regular breaks and unwind after high-pressure experiences.
A comprehensive benefits package that includes paid vacation time, sick leave, and healthcare is another important facet of reducing stress in the workplace. Employees who know they can take time away from work without incurring financial penalties are more likely to feel relaxed and happy at their jobs, leading to increased productivity and lower rates of turnover.
8. Comply with All Industry Standards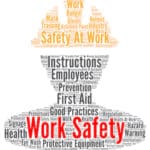 Employers and employees alike can contribute to their workplace's safety culture by learning and following all safety standards relevant to their industry. These standards include things like proper handling and storage of hazardous materials, taking regular breaks, and making sure all emergency exits are clearly marked and kept free of obstructions.
OSHA has four sets of standards for employee safety across different areas of business: General Industry, Agriculture, Construction, and Maritime. Employers should be well-versed in the details of OSHA standards for their specific industry in order to ensure compliance with federal guidelines and laws. While this is not only a regulatory compliance issue, it definitely is a good one to keep in our safety tips for work list. Complying with government regulations helps both employees and the employer alike.
9. Encourage Ergonomic Standards and Proper Posture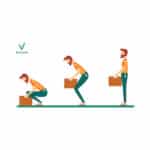 Poor posture can lead to injuries both in the short term and over time. Using a mechanical aid such as a dolly or wheelbarrow without implementing good posture can cause muscle strains or even tears. Spending hours slumping in front of a computer can lead to spine problems, arthritis, and carpal tunnel syndrome, among other issues.
Office workers should be provided with ergonomic desks, chairs, and other equipment designed to help them maintain good posture while at work. Warehouse employees and other workers using mechanical aids should be trained in the correct technique and usage of these aids to avoid injury.
10. Create a Designated Safety Committee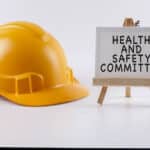 In some workplaces, it might be beneficial to create a safety committee to take on the additional task of monitoring the building during work hours and pointing out any unsafe conditions or improper techniques being used. This squad should be comprised of individuals with a thorough understanding of OSHA guidelines, who take the health and welfare of their fellow employees seriously.
Once a designated safety committee has been appointed, other workers will know who to report to in the event of an emergency or if there's a potentially dangerous situation during the workday. The safety committee can also be responsible for training new hires in the safety protocols and guidelines at the work site.
11. Don't Take Any Shortcuts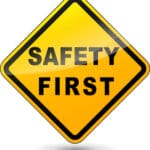 Many job-related errors occur as a result of rushing or trying to finish a task without following the proper procedures. Cutting corners can have disastrous consequences, so it's very important to avoid creating an environment in which people feel pressured to finish their tasks quickly. Health and well-being should be prioritized over speed, with employees looking out for each other and rewarding examples of methodical work that adheres to all guidelines and safety principles.
Not taking shortcuts includes making sure you're always using the right tool for every job. If you need a tool or piece of equipment you can't find, it's better to take the time to locate it than to try to do the job without it. For example, you should never walk onto a construction site without your hard hat and other necessary PPE.
Finally, employees should be dissuaded from running while at work for any reason, including tardiness. Moving at high speed can cause people not to notice things like wet floor signs or obstructions in a doorway until it's too late. Many collisions and falls can be avoided by encouraging employees to move slowly and deliberately throughout the workspace.
12. Keep All Emergency Exits Clear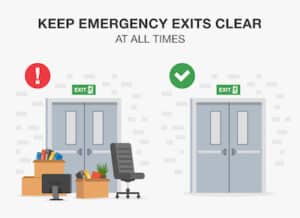 With a detailed set of safety tips in place, the likelihood of an emergency occurring at work is significantly reduced. However, if an emergency does happen, employees need to be able to leave the building as swiftly and efficiently as possible. That means all emergency exits must be clearly marked and fully accessible at all times.
All new employees should be made aware of the locations of every emergency exit in the building. Fire drills, tornado drills, and other techniques for disaster preparedness should be utilized to make sure everyone knows what to do in the event of a real emergency.
13. Maintain All Tools and Machinery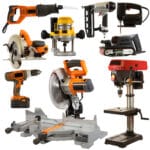 All tools, heavy machinery, and electronic devices should be routinely inspected and serviced to ensure they remain in good working order. Malfunctioning equipment can easily cause injuries, and employees need to know they can rely on the tools they need to do their jobs. It's better for the company to spend money on new equipment rather than having to pay out injury compensation due to wounds caused by old or improperly maintained tools.
If a piece of machinery is found to be malfunctioning, the problem needs to be reported to the appropriate supervisor or authority right away. If the equipment can't be removed from the work site right away, post a sign to let other employees know not to use the machine.
14. Keep the Area Clean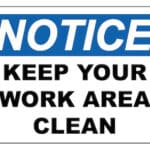 A cluttered environment is dangerous for many reasons. For example, people can trip and fall if there are obstructions on the floor. Unsanitary conditions in common spaces such as kitchens and bathrooms can lead to illness. All workspaces should be kept neat and orderly throughout the day, especially high-use areas like hallways, bathrooms, cafeterias, and break rooms.
Ensure signs are used to warn workers of potentially dangerous conditions like wet floors. Use cleaning products that are non-toxic and free of allergens.
15. Maintain a Detailed Record Book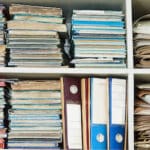 Keeping a record of any issues with various equipment is an important aspect of creating and maintaining a safe work environment. A good safety log should also include records of any training sessions that occur and the people that attended them so that supervisors know who has been trained on what.
Another reason to keep records is to ensure that any mistakes or breaches of safety that occur can be learned from going forward. This will help prevent the same errors from occurring in the future.
Why Follow These Safety Tips for Work?
One of the greatest triumphs of the labor movement in the past century is the modern-day emphasis on making every workplace safe for employees, employers, and visitors to the job site. Legislation such as the Occupational Safety and Health Act of 1970 guarantees the right to work in a place that is free from danger.
Every employee deserves a safe workplace environment, and investing time and resources into building a company culture geared toward worksite safety will serve to prevent injuries, reduce potential hazards, and ensure that everyone on your team knows what to do in the event of an emergency.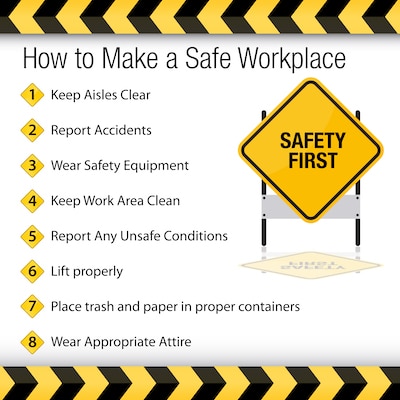 Why is Workplace Safety Important?
Across all industries, a safe working environment is an essential part of a happy workplace. Employees of a business that takes safety seriously are more likely to perform at a higher level, and a reduction in potential dangers means less likelihood of a serious injury that prevents people from being able to do their jobs.
Plus, employers are legally obligated to keep their workers safe. Failure to comply with federal workplace safety standards such as those passed by the Occupational Safety and Health Administration (OSHA) can result in a greater risk of workplace injuries, costly lawsuits, and devastating fines.
Keeping employees safe isn't just about following legally mandated safety procedures; it's also beneficial for business. A well-entrenched safety culture in the workplace has been shown to increase productivity by limiting workplace injuries and decreasing the rates of Lost Time Injury (LTI) and Days Away, Restricted, or Transferred (DART).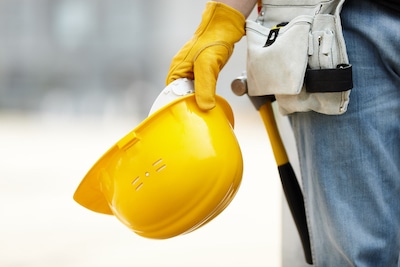 Who is Responsible for Overseeing Workplace Safety?
In many larger offices and places of business, safety in the workplace is the purview of a designated human resources department or professional. HR reps are trained in all safety standards for their industry and are responsible for monitoring employees and making sure all safety and emergency protocols are being followed.
In the absence of an HR department, the responsibility of training new hires in a worksite's protocols and regulations usually falls to the manager or supervisor on duty. Some safety-related tasks such as cleaning and sanitizing frequently touched surfaces fall to other departments like custodial services.
In practice, however, prioritizing safety in the workplace is the responsibility of every employee. A safe and high-functioning work environment is unachievable without the cooperation and participation of everyone involved. It's up to all workers to use common sense and keep an eye out for each other while on the job, and to report any potential hazards to their supervisors as they arise.
Keep Your Work Site Safe for Everyone With These Safety Tips
Working under hazardous conditions makes it difficult for employees to do a good job, and increases the likelihood of avoidable errors and injuries. A work environment that puts a high priority on being safe and maintaining awareness is more likely to have happy, productive employees that want to stick around and do their jobs well. That's why these safety tips for work are so important.
Utilizing these fifteen tips for staying safe at work does more than protect your bottom line; it benefits your business, and it's also the right thing to do. A dedicated safety program shows your employees, customers, and potential business partners that your company takes its legal, moral, and ethical responsibilities seriously.
Whether you're an employee or an employer, keeping abreast of the current standards for safety in the workplace is an important responsibility.