What Type of Lanyards Are Used in Fall Protection? [Updated]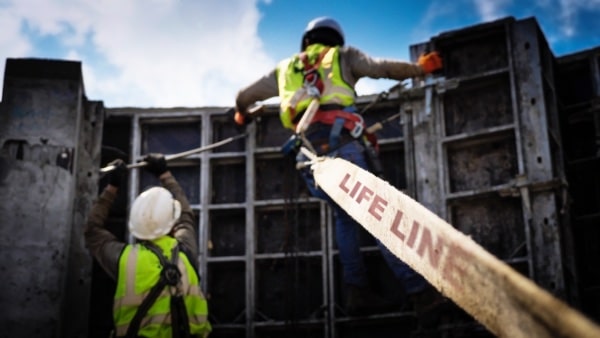 There are several lanyard types that are used to keep workers safe when working at heights. They come in different designs and types of webbing, and most even have shock-absorbing materials to make for a smoother catch in the event of a fall. They also come with different kinds of hooks and connectors.
With so many various options to choose from, the type of lanyards you select need to meet OSHA standards in order to be used with optimal safety.
Let's take a look at why using lanyards on your job sites is important and what kinds of lanyards are available. With this information, you can make an educated decision about what equipment you need.  Also you should check out our full featured Fall Protection Safety Training product that covers all aspects of fall protection.  We also have a full list of fall protection safety tips and you should definitely check those out as well.
What are Lanyards Used for on Job Sites?
The potential of fall hazards is unavoidable on construction sites. Because of this, lanyards on work sites are essential to ensure employee safety when working in higher areas. A lanyard forms part of a fall arrest system that stops workers from falling off roofs and other elevated areas.
A lanyard connects the worker's harness to the rope grab, and thereby the rope. A strong, quality lanyard is a crucial item of safety equipment.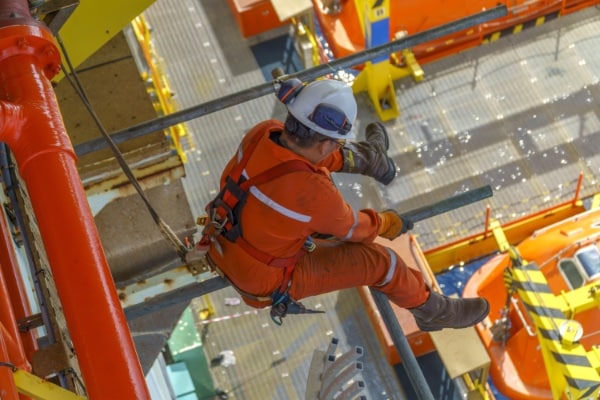 Fall Arrest Systems and Personal Fall Protection Equipment
A fall arrest system is essentially the entire set of equipment you use to prevent falls from occurring. These systems typically include:
A quality vertical lifeline or self-retracting lifelines.
A shock-absorbing lanyard and its hooks and connectors. You can also get self-retracting lanyards or restraint lanyards. They should be about six feet in length.
Rope grabs.
Deceleration devices.
A secure anchor point or fixed ladders to which you can safely tie off a worker.
An anchorage connector.
A requirement of any fall protection certification program is that your employees will need to understand all about fall arrest systems and the equipment that comprises a good fall protection safety system.
Lanyard Types
Lanyards come in several different styles and designs. It's best to choose your lanyards in line with the kind of work employees will be doing. You may need a basic style, or something more specialized.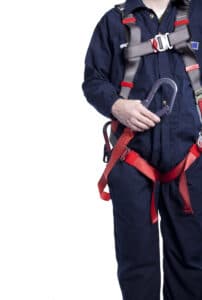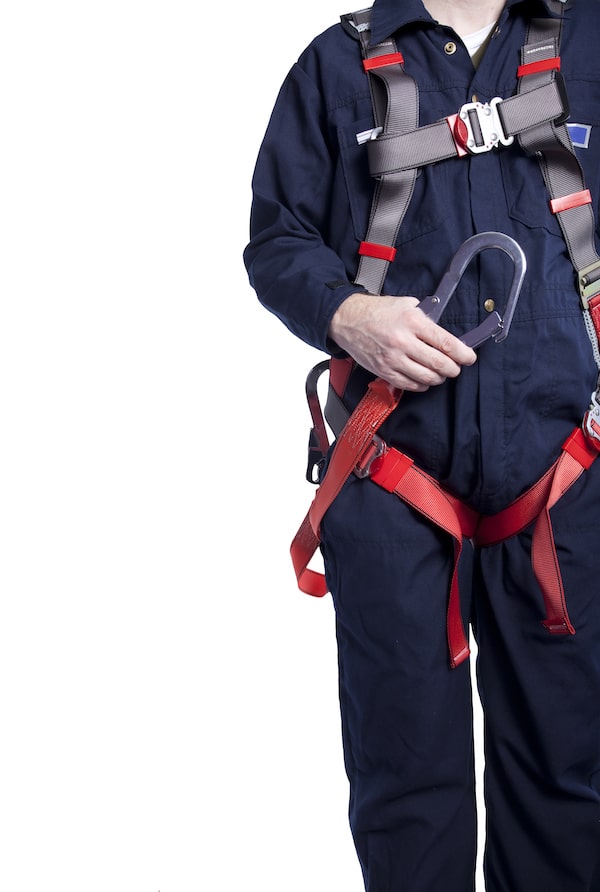 In some instances, you can specify your preferred hooks and connections you'd prefer to include when purchasing a lanyard.
The main designs and their essential specifications are detailed below.
Shock Absorbing Lanyards
Shock absorbing lanyards are an essential part of fall protection. If an employee falls, he or she may get a sharp jolt when personal fall protection systems catches them. This can also cause physical injuries, depending on the height of the fall and the equipment used. Lanyards with built-in shock absorption can help reduce the risk of injury from the equipment if a worker falls.
Most lanyards have shock-absorbing features, though some with more focus on it than others, hence the name. The following styles are specifically designed with shock absorption technology to minimize the impact of arresting forces if a free fall occurs.
1.     Pack Style
Pack style lanyards are the most common on the market. They're easy to use and to check for any issues or defective components than many other lanyard designs. You can get them in several style varieties. You can get them in different materials as well, including cable lanyards, nylon webbing, wire rope, or Kevlar.
This design has highly effective shock absorption as well. This feature can deploy as much as 60", depending on the material and model.
2.     Tubular Style
This design is also frequently used by construction communities. They are often light in weight and, as per OSHA standards, can stretch to a fixed length of four feet or up to six feet in the extra elasticity version.
3.     Cable and Kevlar Style
As specialty lanyards, these types have high heat and abrasion resistance and arc flash protection. This means they are suitable for circumstances requiring welding or exposure to other forms of heat.
They also typically have effective shock absorbing packs to minimize fall arrest forces.
4.     Tie-back Style
This kind of energy absorber lanyard is the ideal addition to any worker's fall protection system. Tie-back lanyards typically come in two designs. You can get them with either a carabiner or a D-ring. The lanyard is then connected to heavy-duty webbing.
When using this style, ensure you secure the lanyard to a secure anchor point that will hold if a free fall occurs. You can safely attach to a TLB if no other suitable anchor point is available.
5.     Rescue Style
This style of shock-absorbing lanyard is used mainly for circumstances that could result in a rescue situation. These could be specialized tasks involving risky, high areas such as towers or wind turbines.
This style comes with D-rings on both leg ends as connection points to a rescue system. In this way, workers can effectively be retrieved after a fall. Rescue lanyards are becoming more frequently used by contractors as they begin to put in place systemic rescue plans that comply with ANSI standards.
Free Fall Lanyards
This style is designed to tie off at one's feet. In other words, it is made to be used when the anchor point is at one end, that is at a worker's feet. The design allows for a lengthy free fall distance of as much as 12". Shock absorption deployment is up to 60" with this design. Free fall lanyards can be more tricky to use, so be sure to communicate with your company's Competent Person before using tie-off lanyards.
Positioning Lanyards
Positioning lanyards are usually used to position the worker so as to prevent a fall, as the name suggests. The style comes without shock absorption. Without the shock absorbing feature, this kind of lanyard can only be used for the prevention of a fall. It is not suitable to arrest a fall that has already occurred. The lack of shock absorption can cause bodily injury if used for fall arrest. These lanyards are usually made of polyester or nylon-based webbing.
Lanyard Hook Varieties
Different lanyard types come with a range of hook options that are extremely strong so they can hold someone falling. A few common hook types include:
Snap hooks
Rebar, scaffold, or pelican hooks
Tie Back Carabiner
Snap hooks are one of the most commonly used styles. They come in standard steel or aluminum.
Rebar hooks are also frequently used. They also typically come in metal or steel. Rebars are larger hook types with a greater gate opening. They are also known as pelican or scaffold hooks.
Tie-back carabiners are used in the same way as snap hooks. They can also be used to create an anchor point with your lanyard.
Using aluminum hooks gives you the same strength without the weight. This can be useful when you are dealing with heavy-duty fall arrest systems that have long, heavy ropes and other equipment.
When selecting your lanyard hook type, be sure to check they are OSHA or ANSI approved and have a double or triple locking action for ultimate fall protection and safety.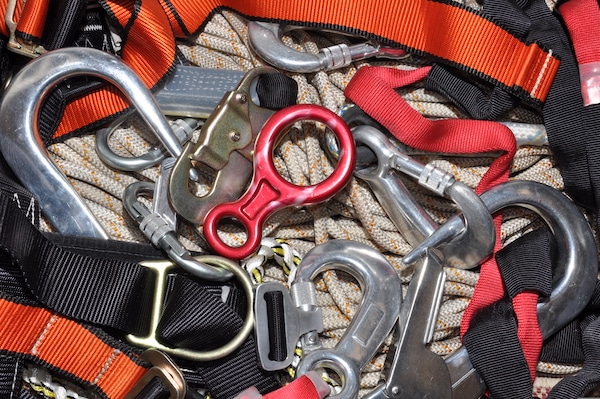 Other Safety Factor Specs to Consider
When purchasing appropriate fall protection lanyards, there are a few other things to consider. These considerations include matters such as webbing type, lanyard length, shock absorption specs, and more.
Webbing Type
The kind of webbing a lanyard is also important in terms of safety. The webbing needs to be strong enough to withstand long usage in demanding conditions. The material needs to cope with exposure to the sun, heat, cold, wet conditions, abrasive conditions, and other site factors.
Webbing should also be designed to withstand fire and arc flash risks. Kevlar and Nomex webbing are ideal for withstanding these challenges.
Double or Single Leg
Lanyards come in single or double leg designs. Double leg designs are typically for more intense work circumstances. Jobs requiring 100% tie-off ability will need the heavy duty twin leg lanyards.
Single leg lanyards are suitable for less demanding or hazardous work. They are often more comfortable and lighter in weight. It is important to establish which option is best for a particular job.
You can also get full body harnesses or body belts for optimal fall restraint if a fall occurs. Full body harnesses help employees work hands free.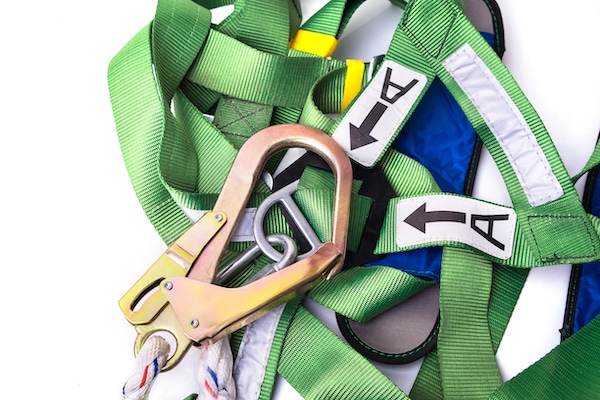 Lanyard Length
OSHA recommends the length of the lanyard must be typically 6 foot for optimized fall protection. However, you can get shorter or longer ones, and adjustable styles, if required. A lanyard should be long enough to allow you a free range of movement, without offering so much room that one my fall out. A lanyard should be kept short to reduce free fall distance.
Impact Indicators
An impact indicator is a tool to help you assess a lanyard's strength and safety. It will show if the lanyard has already been involved in any falls. If the lanyard has been in a fall and the shock absorption features have been deployed, then the lanyard should be disposed of. It will not be as effective for fall protection a second time, which could result in serious injury or even demise.
Shock or Energy Absorption
Shock-absorbing lanyards are essential when it comes to fall protection. The feature should have a maximum arresting force of 1800 lbs. – 900 lbs. is better for maximum protection.
Free fall lanyards (tied off at one's feet) have greater shock absorption capabilities to mitigate the additional impact force created when tying off by the feet. These designs are also used for larger workers that need lanyards with a 420 lb. rating. Most shock-absorbing lanyards come with a 310 lb. rating. These shock-absorbing lanyards have a shock-absorbing PVC pack sleeve that pulls out in the event of a fall arrest.
Tubular lanyards often come with a cohesive shock absorber that runs the length of the device in low-profile designs.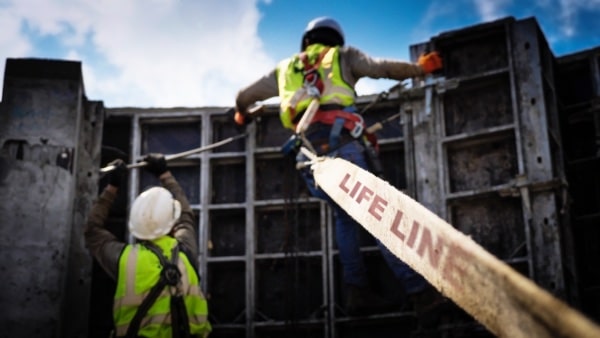 Check New Lanyards Carefully
It is essential to make sure a lanyard will be able to arrest a worker from falling adequately, even if workers will use them at a lower level or height. A qualified person should always check the lanyard's ability to cope with arresting forces, maximum deceleration distance, travel restraint capabilities, and other safety factors before initial use.
Keep Your Fall Arrest System Up-to-Date
As you can see, there is a lot of variety and information regarding safety lanyards for on-site use. It's best to do your research thoroughly about what your specific job types require personal fall protection systems-wise. You can also get restraint lanyard recommendations from a qualified person or occupational safety professional.
Always go for top-quality materials and brands when selecting lanyards and other personal fall arrest systems. They last longer and are safer in the event of an accident.