Can Anyone Use a Scissor Lift? – [Updated for 2023]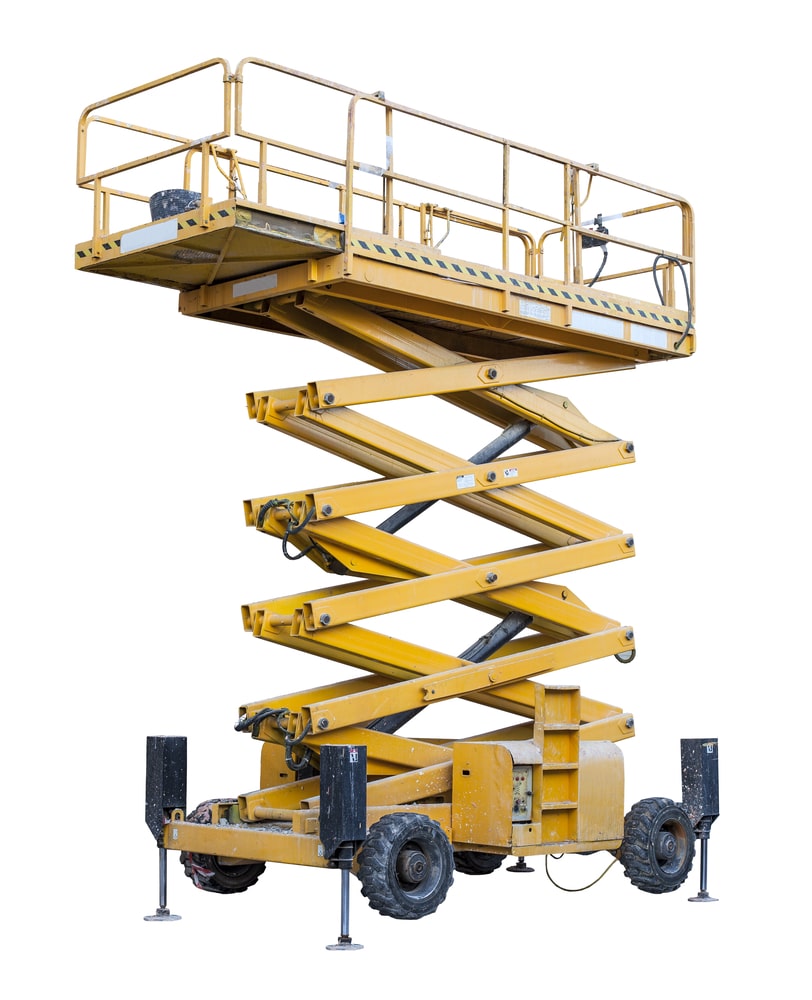 A scissor lift is one of the most popular pieces of equipment used in the construction and retail industry. They help safely move workers vertically to accomplish a variety of tasks that often require someone to be high off the ground. Because they are so popular but come with their own risks, they are subject to U.S Occupational Safety and Health Administration (OSHA) and American National Standards Institute ( ANSI) regulations. This means that not just anyone can use them. Those that do, are required to undergo training through scissor lift safety video or other hands on training regimen.
These OSHA requirements enforce workplace safety standards to prevent employees from being injured on the job. These standards include fall protection and training on how to operate the machines. They also investigate accidents and injuries sustained in accidents.
Theoretically, almost anyone could get the training to use a scissor lift, but have they met the requirements of OSHA? Below, we'll take a look at the different types, certification requirements, and what it takes to use each scissor lift safely. So, can anyone use a scissor lift? Read on….
Types of Scissor Lifts
For starters, what is a scissor lift? Scissor lifts are considered mobile-supported scaffolding work platforms that move and lift workers. They are similar to the aerial lift but are categorized differently due to design differences. They're commonly used for jobs including window washing, maintenance, assembly, and various jobs in the construction industry.
While they are considered a type of aerial platform, that classification is reserved for aerial work platforms (AWP) and mobile elevating work platforms (MEWP).
Your needs will change depending on the job you're doing. For one project, you may need a diesel-powered lift, then for the next you'll need a different variety of equipment.
Choosing the right scissor lift for the job will be determined by the height requirements, how big the platform is, and how much weight the platform can carry. You need to have completed your lift training and know how to use the equipment safely before you can operate it.
Electric Scissor Lifts
An electric scissor lift is best suited for indoor use because it generally fits in smaller spaces. They are less bulky and have narrow platforms compared to those that are diesel-powered. Electric scissor lifts are fitted with non-marking tires to prevent floor damage. Electric power prevents them from being as powerful as diesel-powered models, but they are preferable for certain project types.
Diesel-Powered Lifts
A diesel-powered machine provides the power needed to get workers around easily on outdoor terrain. Models that are engine powered have a larger platform and can lift more weight. They can also be used with rough terrain wheels. Since it runs on diesel fuel, it can be noisy and emit fumes unsafe for outdoor use.
Rough Terrain Scissor Lifts
Rough terrain scissor lifts are engine-powered models that can be used with rough terrain wheels to tolerate the ruggedness of heavy-duty outdoor work. They include all-wheel drive to perform efficiently in tough job site conditions on uneven ground.
Rental Companies
Are you wondering how a rental company can help you? Operating a scissor lift rental can be a flexible, budget-friendly solution for the times you need one for a specific project. Rental options vary depending on the company you choose and what type of model you need. These companies often have the most advanced scissor lifts with the best safety features available without the cost of ownership. A good rental company will even replace broken lift equipment without charge.
Renting to operate a scissor lift allows you to adjust to individual job and terrain conditions without being tied down to one piece of equipment. All users and equipment must be OSHA compliant before renting.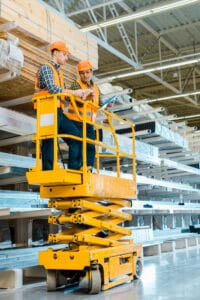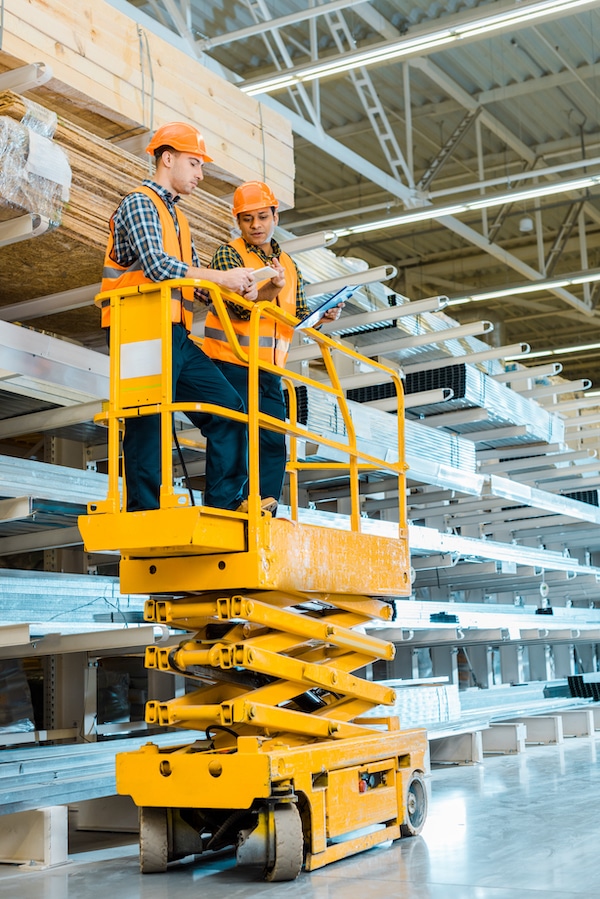 Do You Have to Be Trained to Use a Scissor Lift?
The short answer is yes. To be in compliance with OSHA, all employees need to complete scissor lift safety program and hands on evaluation to receive a certificate. The company you work for is responsible for enforcing these standards and keeping up with OSHA requirements. Also, anyone who operates a scissor lift should understand the inspection requirements.
This is the most common question asked when it comes to operating this type of machine. All employees are required to have a license before they operate a scissor lift, an aerial lift or boom lifts, and MEWPs to maintain OSHA requirements. Aerial lifts are designed slightly differently but follow the same standards for lift training.
Training is essential for job safety. OSHA scissor lift requirements cover fall protection and proper operating techniques to teach employees how to avoid potential hazards while they operate the machine. OSHA scissor lift requirements need to be followed diligently to prevent workplace accidents. Workplaces provide training and certification through company programs.
How Long Does it Take to Get Certified?
Scissor lift certification can be completed in an hour depending on the program. Aerial lift training can be completed with in-person demonstrations during work hours.
How you get certified for scissor lift training depends on the program your company uses to certify all its employees. Scissor lift license requirements can be easily obtained and understood as long as you follow all of the OSHA scissor lift requirements provided through the program.
Scissor Lift Operators
OSHA requires that site managers go over standard procedures for usage and how to handle materials while operating a scissor lift. Scissor lift operators are also responsible for training employees on how to navigate potential workplace hazards and how to properly report equipment defects for maintenance.
Employers must also include manufacturer's instructions, so employees who are studying for their certification or have completed their scissor lift license requirements are guaranteed to use the machines properly. Employers and scissor lift operators can maximize proficiency at work by taking advantage of all the benefits these machines have to offer while ensuring that everyone on the site is safe.
How to Operate Scissor Lifts
Every construction company that operates using this type of machinery must provide workers with a scissor lift safety course and go over safe operation techniques. Well-maintained, standard scissor lifts will meet OSHA standards and operate according to the steps below.
To start it:
Climb into the machine through the gate on the side rail. Step onto the base of the platform and climb under the top rail to enter. Close or lock the gate. Never operate the machine without securing the gate or rail.
Put the key in the ignition to turn it on. The ignition should be right next to a red button on the panel with the scissor lift's controls. All of the functions you need will be on this panel.
Push the joystick to raise the machine. The x pattern of the pantograph powers the machine to lift once the machine has been lifted and put into neutral.
Safety Measures That Need to Be Considered:
Always wear a safety harness and other PPE as fall protection. Falls are a top cause of fatalities. Take the necessary safety precautions to prevent injury or death on the job.
Always keep the machine a minimum of 10 feet away from electrical power sources.
Never use other equipment to raise the work platform.
Never exceed the weight limit listed in the manual.
Identify potential hazards including power lines. Power lines can make it difficult to safely position and stabilize the machine. Stay away from drop offs, cliffs, and other unsafe ground conditions.
If you are operating in unfavorable weather conditions including snow, sleet, hail, high winds, or rain, the chances of the machine tipping over or causing a worker to fall off increase.
Keep the machine on level surfaces while operating the equipment to prevent falling.
Be aware of moving vehicles or stationary objects that may move into the machine's path.
With the proper training, all employees will be able to properly use the machine and follow all of the necessary safety measures.
Can I Use a Scissor Lift in My House?
Some types are designed to work indoors and on finished floors, making them a potential option for in-home projects. If you have completed your training and understand how to use the equipment, you can use it in your home.
A lightweight model that has wheels that spin counterclockwise can successfully move across carpet, laminate, and tile without causing damage to your floors. Just remember to follow OSHA guidelines to keep you safe.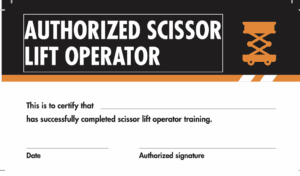 Using Your Scissor Lift Safety Course
Part of training is learning how to pick the right equipment for your project needs. Scissor lift certification is required before you can use this type of equipment to help keep you and the workplace safe.
Workers often need a sturdy platform to get to out-of-reach places without injuring themselves. These machines come in different models suitable for different industries and terrains. This is why this type of machine is perfect for most job sites. You or your company can even rent them to save money when they aren't necessary to have on a regular basis. That still means you have to be certified to use them.
Final Thoughts on Scissor Lift Safety
With all of this important information, it's important to note that heavy machinery should never be operated by someone who is unqualified or inexperienced without being monitored by a professional. This could potentially lead to preventable injuries on the site.
Yes, anyone can use one of these machines if they have receiveed the proper training. However, operating them is best left to the professional who knows how to successfully meet the license requirements. Don't attempt to use one of these at work or at home until you are certified and fully trained.
Our company takes care of all your training needs and requirements with a lifetime support of our OSHA experts.