HAZWOPER PPE Protection Levels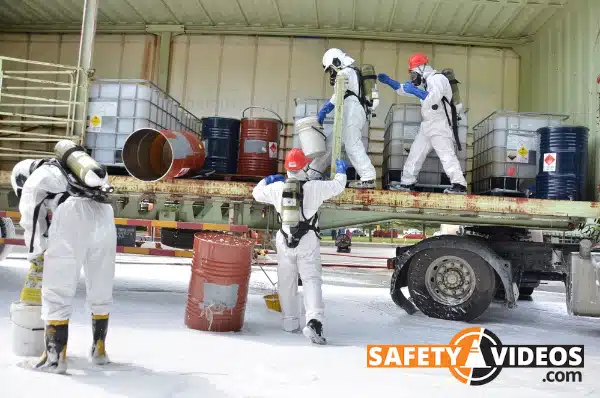 The regulations for Hazardous Waste Operations and Emergency Response (HAZWOPER) and the associated employee training for personal protective equipment (PPE) are determined by the Occupational Safety and Health Administration (OSHA).
HAZWOPER trainees and employees must abide by any of four distinct levels of PPE, which are designed to offer different degrees of protection to keep workers safe when working with or near materials that can be hazardous to their health.
Depending on the circumstances, each of the four protection levels must be appropriately utilized for employee safety. To adequately protect themselves in the workplace, employers and employees must become familiar with the four graded levels of PPE set forth by OSHA.
The level of PPE required at each job site is usually determined by its onsite authority, depending on the circumstances and the hazardous materials being handled. Often, the selection of PPE to be worn in a given situation has a formal, predetermined procedure outlined by employers, such as in hospitals. (We also have a full video-based HAZWOPER PPE training video that you should check out. Or, we do have an entire library of HAZWOPER Training videos as well).
What are the 4 Levels of HAZWOPER PPE Protection?
There are four separate levels of protection in HAZWOPER personal protective equipment:
Level A – the highest grade of protection
Level B – the second-highest protection
Level C – second lowest protection
Level D – lowest grade of protection
What distinguishes each HAZWOPER protection level? Let's look more closely at each PPE level and its requirements, beginning with the lowest level of threatening materials (level D) and graduating to the most severe hazardous materials (level A).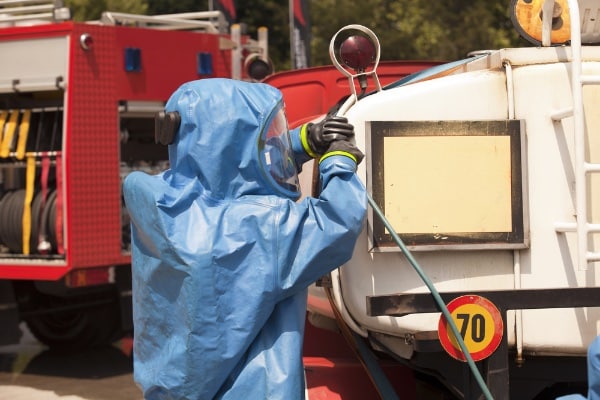 Level D PPE Ensemble Requirements
Level D protection is minimal. Level D protection is used in cases of nuisance contamination and consists of five required pieces plus three optional pieces.
Level D's minimal protection ensemble can be used as a work uniform. This level is employed where there is no risk to the respiratory system of breathing contaminated air and no risk of skin contact with chemical hazards. It includes minimal skin protection and no respiratory protection.
Level D PPE pieces:
Coveralls
Gloves
Chemical-resistant boots (steel toe with shank)
Disposable boot covers
Safety glasses
Escape mask (optional)
Hard hat (optional)
Face shield (optional)
Level C PPE Ensemble Requirements
Level C protection is the next level of standards for HAZWOPER personal protective equipment. This level is used when an airborne substance has been identified, and its concentration has been measured to determine that it can be safely removed by an air-purifying respirator approved by the National Institute for Occupational Safety and Health (NIOSH).
Level C protection is appropriate when the skin and eye exposure risk is minimal and provides liquid splash protection but less protection against vapor and chemicals. This second-lowest protection level of safety equipment comprises roughly ten pieces, several of which are to be used when appropriate on an as-needed basis.
Level C personal protective equipment is often used for cleanup response efforts at sites where contaminants fall below OSHA's defined permissible exposure limits (PELs), which categorize and define hazardous material sites based on the contaminants contained within them.
Level C PPE pieces:
Hooded chemical-resistant clothing. This includes disposable chemical-resistant overalls and two-piece chemical splash suit.
Air-purifying respirators or half-mask that are NIOSH-approved
Both inner and outdoor chemical-resistant gloves
Chemical-resistant boots (steel toe with shank)
Chemical-resistant boot covers
Face shield (as needed)
Hard hat (as needed)
Coveralls (as needed)
Escape mask (as needed)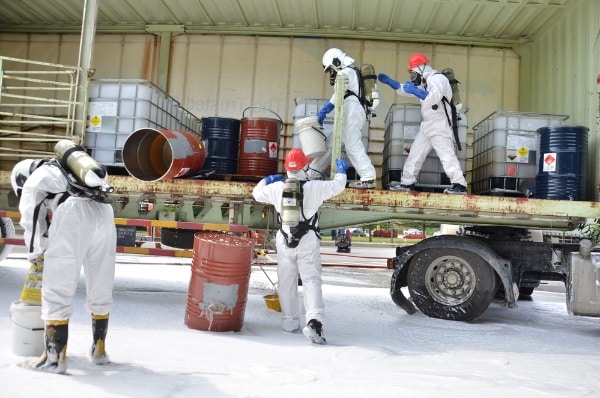 Level B PPE Ensemble Requirements
The second most protective level of personal equipment for HAZWOPER workers is level B protection, used in work locations where hazards have yet to be completely identified. Level B protection entails the highest grade level of respiratory protection, with less strict skin and eye exposure requirements.
Along with level A, level B requires using a self-contained breathing apparatus SCBA. The ensemble is used for situations where the primary hazards are liquid-based, as level B protection guards against liquid splashing but don't guard fully against vapors and chemical exposure.
Level B PPE pieces:
Contained breathing apparatus SCBA or positive pressure supplied air respirator (NIOSH approved)
Chemical resistant clothing
Inner chemical-resistant gloves
Outer chemical-resistant gloves
Chemical-resistant boots (steel toe with shank)
Level A PPE Ensemble Requirements
When the greatest risk of hazardous liquid, solid, or gas exposure to skin, eyes, and respiration exists, Level A personal protective equipment is necessary. Level A PPE is needed when the defined threat level is the highest, like in the presence of high volumes of ammonia in a confined area that lacks ventilation.
Level A PPE includes complete skin protection and a self-contained breathing apparatus for respiratory protection. It requires a completely encapsulated vapor protective suit with additional protective layers on and under it and an air respirator with escape SCBA to provide clean air that doesn't need purification.
Level A PPE pieces:
SCBA-equipped full face-piece or positive pressure supplied air respirator (NIOSH approved)
Chemical protective suit
Inner chemical-resistant gloves
Outer chemical-resistant gloves
Chemical-resistant boots (steel toe with shank)
Coveralls (as needed)
Hard hat (under the suit, as needed)
Long underwear (as needed)
Additional disposable protective suit, gloves, and boots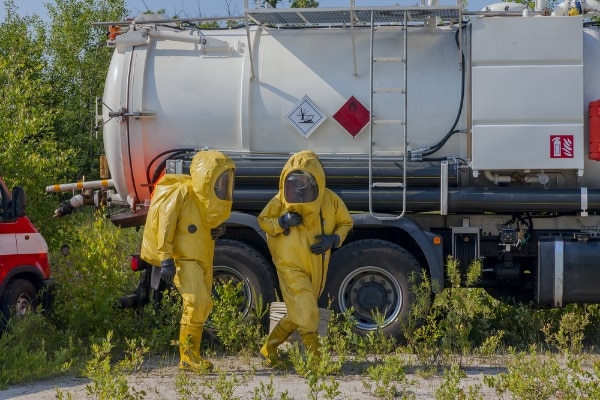 What Are the 4 Types of HAZWOPER Personal Protective Equipment?
Within the four levels of personal protective equipment, there are four general categories of protection equipment types:
Respiratory protection: NIOSH-approved air purifying respirators or contained breathing apparatus to avoid airborne contaminants
Eye protection and face protection: chemical splash goggles, safety glasses, and other gear to prevent chemical splashes, sparks, and fragments
Skin protection: clothing, gloves, and boots for chemical exposure prevention
Noise protection: ear muffs or plugs to protect against hearing damage from extreme noise
Together, these categories of protection and the levels of personal protective equipment are designed to keep workers safe.
In dangerous work situations, appropriate PPE is an essential defense against harmful waste and other hazards, so HAZWOPER employees must be well-trained in every aspect of PPE. Formal training courses should comprehensively cover the use, inspection, care, and limitations of all personal protective equipment pieces.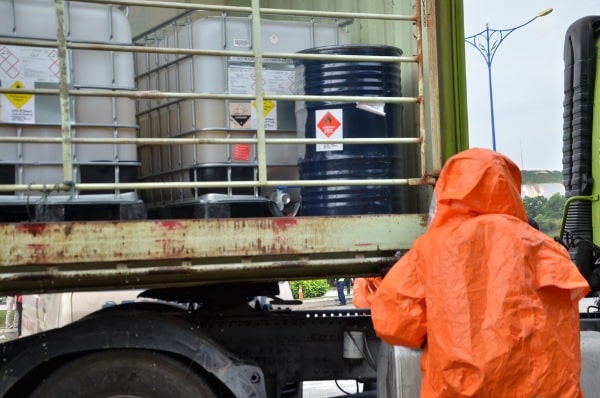 What Are Work Zones for Hazardous Sites?
In addition to the levels and types of HAZWOPER personal protective equipment, OSHA has defined three unique work zones with specific site characteristics for each:
Exclusion zone
Contamination reduction zone
Support zone
This three-zoned system was formulated to isolate and strategically reduce hazardous substances safely. Each zone has its specific features and functions to keep in mind when learning about HAZWOPER PPE and safety training.
Here are the distinctions between each of the three OSHA-defined HAZWOPER work zones.
The Exclusion Zone
The primary contamination has or could take place in the exclusion zone. Its boundary is named the "hotline" and requires a visible definition.
The exclusion zone should have designated access control points for entry and exit regulation. This zone can also be subdivided based on risk level and PPE requirements. Work done here includes cleanup, sampling, mapping, and more.
Contamination Reduction Zone
Just beyond the exclusion zone's hotline lies the contamination reduction zone, where the transition from one zone to the other takes place. It's meant to act as a buffer for the reduced likelihood of tracking contaminants into the support zone.
This zone contains the "contamination reduction corridor," where procedures for decontamination take place. Work includes evaluating samples, monitoring conditions, determining contamination levels, defining the hotline, and more.
The Support Zone
Finally, the bordering area is the support zone, where administrative personnel stands by to oversee and regulate activities. This zone should be upwind from the exclusion zone in an area that offers visibility and resources.
No contaminated samples, clothing, or equipment should enter the support zone and be thoroughly decontaminated in the contamination reduction zone first. The support zone is where a command post can act as headquarters for operations and can be used for data storage, recordkeeping, a medical station, and more.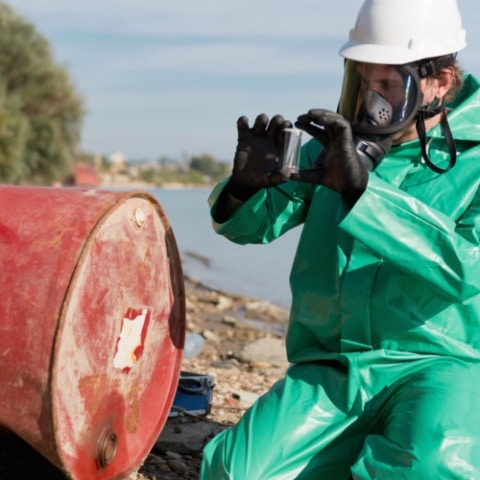 Final Thoughts
Emergency response, health care, nuclear power plants, waste management, and many other integral professions in a healthy society require workers to engage in harmful, even potentially life-threatening situations regularly.
Entering dangerous scenarios is serious work, so professionals need specific OSHA-approved training to most effectively equip themselves to operate within its strictly defined safety standards.
OSHA's requirements for hazardous conditions help workers to recognize and avoid risks while properly handling and disposing of contaminants. Understanding the levels and types of HAZWOPER personal protective wear and work zones is foundational for working safely in hazardous conditions.
Correctly used personal protective equipment reliably safeguards against biological, chemical, and radioactive substances. Each level of equipment for specific hazardous situations is defined by the grade of safety its pieces individually and collectively perform to protect employees from exposure, contamination, and injury.
Because specific site characteristics and work duties are subject to change, regular reassessment is key to identifying fluctuations in threat levels at hazardous work sites. Modifications, combinations, and updates to policies and applications surrounding PPE may be necessary to ensure their ongoing effectiveness.