Scissor Lift Toolbox Talk – [Quick & Easy for 2023]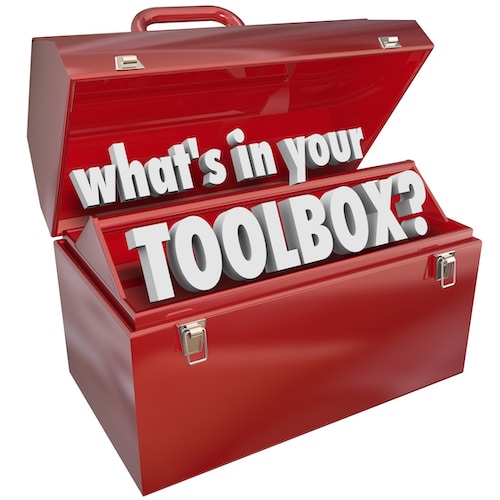 During construction, a scissor lift provides a safe platform for workers to stand on while they reach new heights. If used in an unsafe manner, employees are put at risk of serious injury or even death. All employees must receive proper training for this machine and know how to steer clear of dangerous situations around it.
In this Toolbox Talk, we'll go over how safely operating this machine can assist workers in the field and how they can avoid potential hazards when they use a scissor lift. You can also check out our Scissor Lift Training Video for a more complete and video-based training.
How to Safely Operate Scissor Lifts
Knowing how to operate a scissor lift safely ensures that every worker is safe and protected from possible hazards. Personal protective equipment (PPE) is necessary, but more techniques can be applied to help protect employees on the job.
Scissor lifts are a work platform that must be operated correctly, prioritizing safety over speed to ensure that every employee reaches the ground safely. Workers with access to the scissor lift need to be aware of more than just the maintenance process to ensure everyone involved stays safe.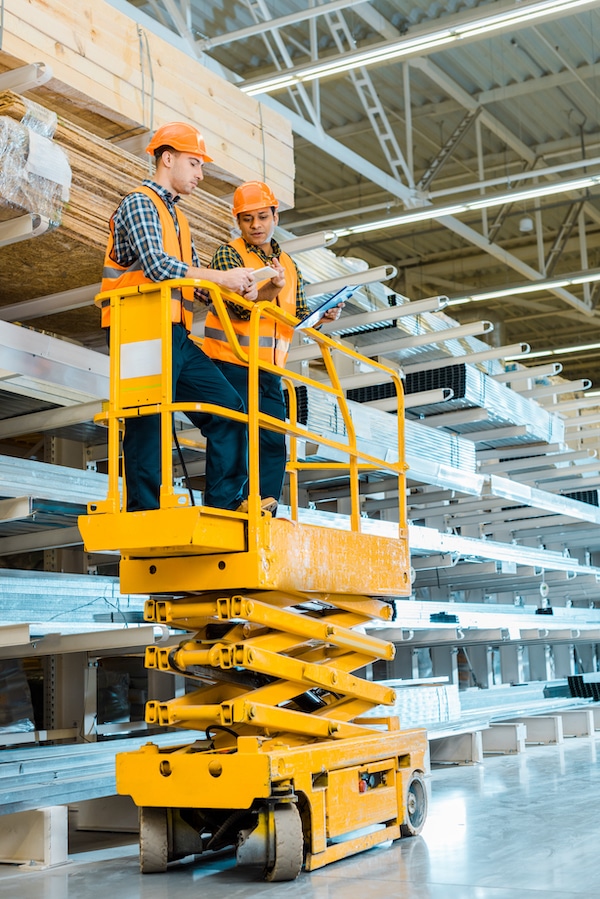 What Workers Need to Know
Workers need to be aware of weather conditions and weight limits. When wind speeds exceed 28 mph, it's easy for workers on the lift to fall. While there are guardrails installed to ensure safety when using the equipment, the platform itself can still be dangerous. Poor weather conditions increase the risk of a slip and fall, resulting in serious injury or death if a worker falls from an elevated position.
Employees need to know that scissor lift safety includes staying within easy reach of the work without standing on the guardrails. Exceeding the weight limit is inadvisable because it risks lift safety and integrity. Maintaining the lift keeps it in good condition and employees need to be sure to treat it with respect.
What Workers Need to Do
Workers must avoid leaning over the guardrails while on the platform. Leaning over the rails risks a fall to the ground which could critically injure a worker. The platform can be extended for easy reach to electrical lines and cross beams. Rather than stand on the rails or other equipment to reach, ask the operator to extend the lift.
Employees need to inspect the lift before they use it, making sure that it is not operated if maintenance needs to be performed. Scissor lift safety cannot be compromised for anything, regardless of deadlines or weather.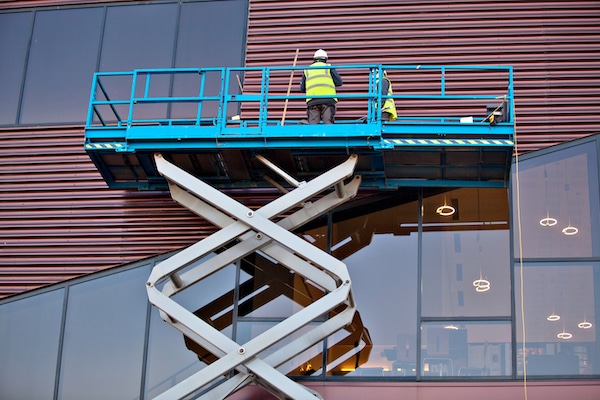 How a Safety Meeting Can Help
A safety meeting can help educate your team on the best safety practices for using a scissor lift and how to avoid injury. Operating a scissor lift requires proper training so that everyone involved knows how to respond. Employee safety and security is a priority that can never be compromised, so providing proper training for scissor lifts is essential.
A meeting does not need to be excessively long but can serve as a refresher for previous training modules.
Role of a Scissor Lift Operator
Scissor lifts are hefty pieces of equipment that must be managed with care. A scissor lift operator is responsible for properly demonstrating control with protection stabilization and positioning of the lift. An operator is trained to keep themselves, the equipment, and their coworkers safe while the lift is in use.
The work platform vertically moves according to the controls used by the operating employee. They are responsible for moving the equipment closer to the power lines and lowering the basket so that employees can disembark when necessary.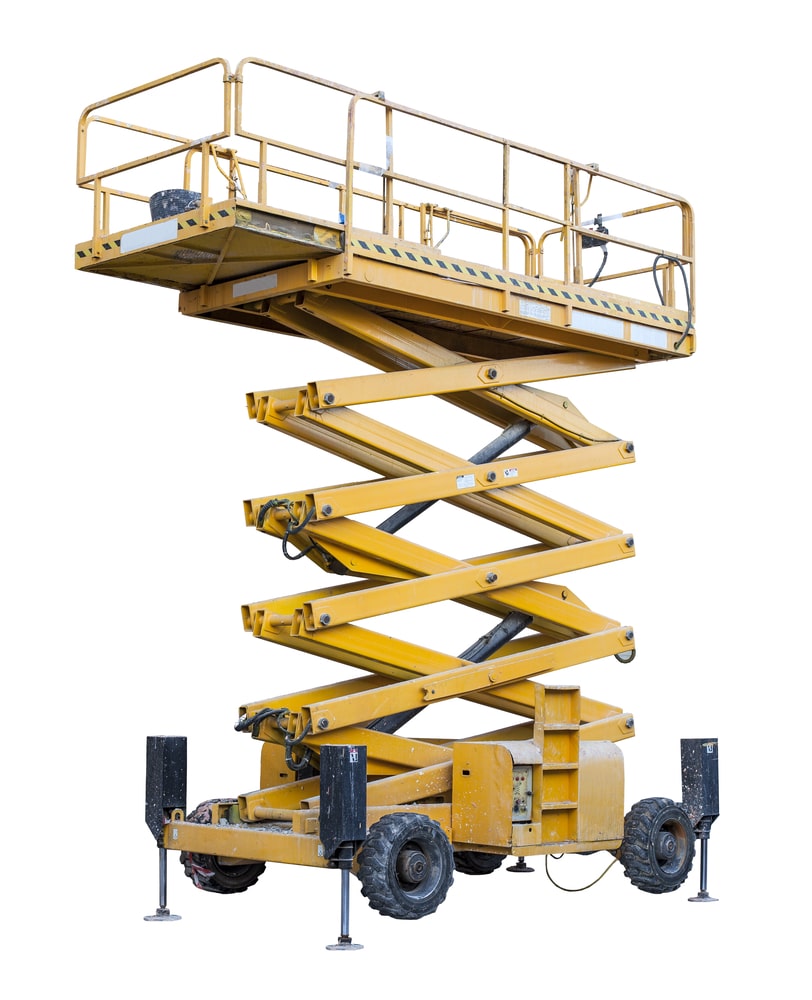 Read the Manufacturer's Manual
Following the manufacturer's manual allows the operators to address fall protection in the workplace and the field. The unit moves at the operator's discretion, so having them stay familiar with the mechanics and the platform ensures they act out of concern for their fellow employees.
The manual has guidelines for how and when to move the lift so that no one is harmed during the process. Many might overlook or skip this step to speed up the work or increase efficiency, but the manual contains vital information that cannot be ignored.
Minimize Risks
The risks associated with operating a scissor lift can be minimized if the employee operating it understands how to practice safely. Preventing accidents and tip-overs is simple when you follow protocol and actively reduce the danger faced by employees on the equipment.
Fall protection guidelines are designed to prevent tip-overs and accidents on the scissor lift. It's up to the employee handling the equipment to make the right call and reduce the risk of danger to the other employees involved in the operation.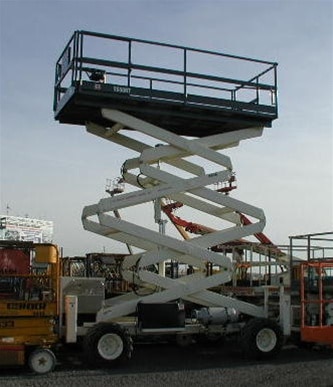 OSHA Standards for Scissor Lift Safety
The Occupational Safety and Health Administration has set standards for every employee to follow when using a scissor lift sot hat there are strict guidelines to follow. These standards allow employers to know what is acceptable and what cannot be allowed to occur when it comes to employee safety.
These are a few of the aforementioned OSHA regulations to ensure that all employees are safe while using the scissor lift unit. Take a look to see what you can do to keep yourself and your coworkers from harm while utilizing equipment for a job.
Properly Trained Employees
Establishing a comprehensive training course for your team is the first step to ensuring workplace safety. Educating them on the best safety practices keeps everyone on staff from committing violations that can result in hefty fines and legal action.
After the team receives proper training, they're ready to practice using the machinery and start working in the field with their coworkers. The training module should cover all of the basics and other important details that are essential to safety. If you are looking for scissor lift safety tips we have a list of those.
Weight Limits
OSHA has determined the weight limit acceptable to the scissor lift platform to prevent tip-over accidents and other damages. Since scissor lifts are considered scaffolds and not aerial lifts, they can hold between 500 to 2,000 pounds, depending on the model.
Exceeding this load limit can result in harm to the lift and nearby power lines when extended. OSHA regulations prohibit exceeding the limit for the well-being of the team members involved.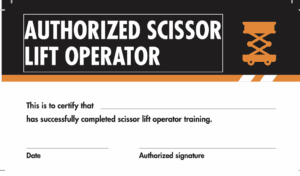 Guardrail System
Additionally, OSHA standards dictate that guardrail systems must be in place on every scissor lift platform before it is extended. These guard rails are vital to the health and security of those working on the platform at extended heights. Without this system in place, people could sustain serious injuries or death if they lose their footing.
The regulations also prohibit standing on or leaning against the railing for stabilization, as it's hazardous to one's health. When railings are not available, harnesses can be substituted when people are more than ten feet off the ground. There should always be a preventative device in place to keep team members from falling.
The Bottom Line
At the end of the day, it takes a whole team to operate and maintain a scissor lift in the field. Without the person who operates it, the equipment can't function. Without the people who work from the platform, there's no way to accomplish the task at hand. Only when the team works together can the work get done safely.