Aerial Lift Pre-Shift Inspection and Maintenance Procedures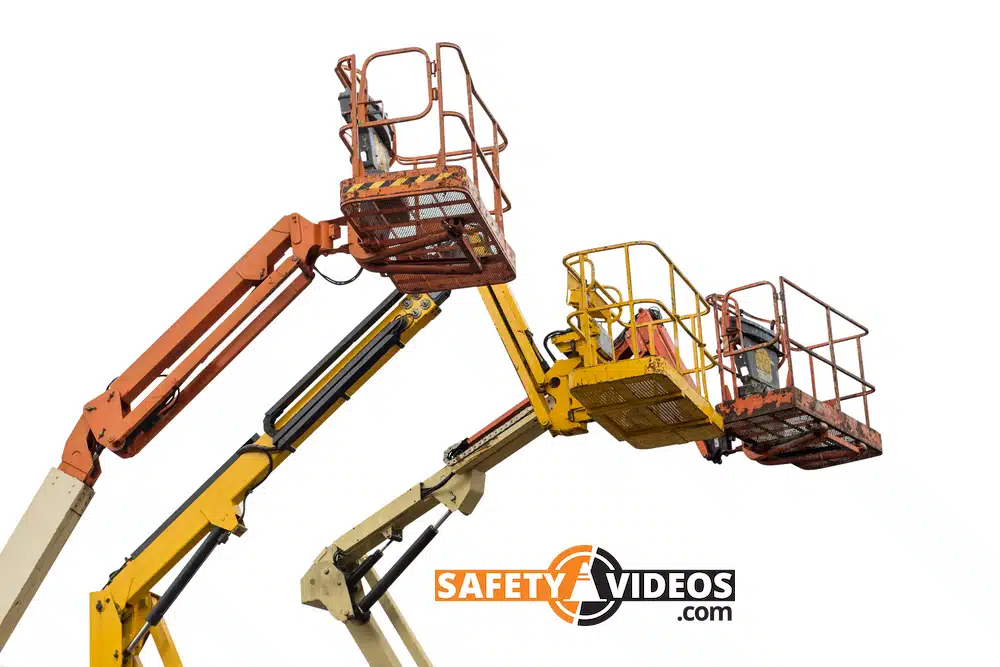 Aerial lifts are handy pieces of equipment for raising workers on work platforms to elevated, inaccessible places so they can complete specific tasks.
However, these mobile elevated work platforms (MEWPs) also have the potential to be highly dangerous.
Any employee who will be operating an aerial lift as part of their job should be thoroughly trained on all relevant procedures, including conducting a full inspection before each use.
Detailed safety checklists help prevent workplace injuries and keep all employees in the vicinity of the aerial lift safe during their shifts. Below, we will outline the aerial lift pre-shift inspection and discuss what maintenance is necessary on these machines. We also have an Aerial Lift Training Video that you can check out as well.
How Often Must a Basic Inspection of Aerial Lift Equipment Be Completed?
What OSHA regulation covers aerial lifts? While multiple applicable OSHA regulations exist, 1910 (1910.67) is particularly relevant. It requires a lift pre-start inspection be conducted before every work shift.
OSHA further requires that all aerial lifts comply with ANSI standard A92.2-1969 regarding vehicle-mounted elevating and rotating work platforms.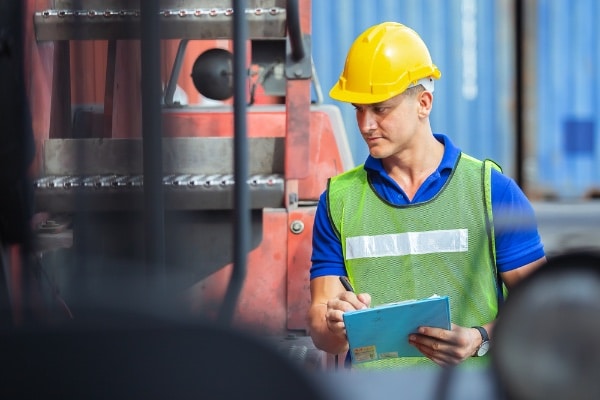 Benefits of Routine Lift Pre-Start Inspections
Aerial lift inspection ensures that your workers do not use unsafe aerial lifts and scissor lifts, shielding them from injury.
Besides protecting your employees, boom lift and scissor lift safety prevent costly workers' compensation claims and hefty fines from OSHA for neglecting the required safety inspections.
Routine inspection also helps identify defects in the machinery so that repairs can be done immediately, which helps to maintain your boom lifts and scissor lifts in working condition for longer.
Does OSHA Require Annual Aerial Lift Inspections?
In addition to aerial lift inspections – which should be carried out on all lifts being used in a shift before that work shift begins – OSHA also requires yearly maintenance inspections for maintenance purposes.
Moreover, ANSI requires inspections every three months or every 150 hours of use, whichever comes first.
Pre-Start Inspections
All aerial lifts, including scissor lifts, should receive a pre-start inspection before a work shift commences to ensure that the lift is in a safe operating condition.
Do not assume that a unit used the previous day is still safe to operate.
Maintenance Inspections
Maintenance should be done with a checklist guiding the process so nothing is omitted. Verify equipment maintenance with a description of what repairs were performed and who did them.
In addition to repairing damaged components of an aerial lift, routine maintenance ensures that parts such as hydraulic hoses, the battery and wiring harness, safety equipment, the engine, and wheels are functional.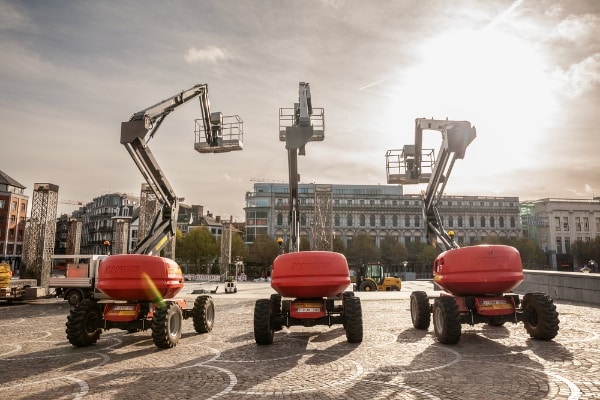 Who Is Responsible for Inspecting the MEWP Vehicle and Lift Before Each Shift?
Although one of the operators will carry out the lift pre-start inspection before every shift, you, as the employer, are ultimately responsible to verify that these safety measures are happening.
As an employer, you must ensure that all your operators are familiar with the safe operation of aerial lifts and scissor lifts and can identify if something is wrong with the machine.
You must train at least one employee about inspecting lifts; having multiple operators who can perform an inspection is preferable.
What to Do If the Inspection Reveals a Problem
Should the lift inspection reveal that the lift is unsafe, it must be withdrawn from service immediately! If work must continue, ask your material handling partner to supply a rental unit in the interim.
Tag the boom lift or scissor lift in question as "out of service." Do not return it to operation until it has been repaired.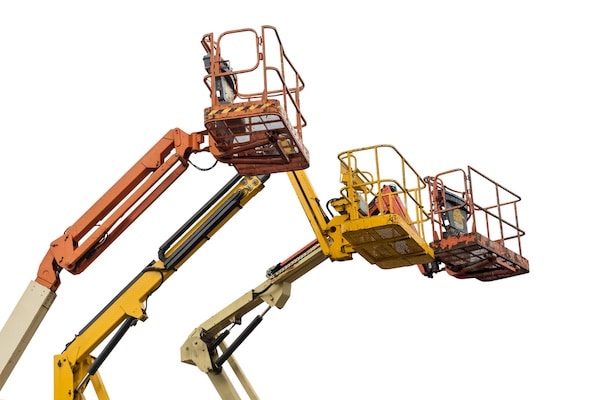 A Universal Checklist for Pre-Shift Aerial Lift Inspection
Although aerial lifts should be inspected before every shift, it is easy to take shortcuts or neglect certain aspects due to the routine nature of these inspections.
Checklists are a simple and proven tool for ensuring rigorous adherence to correct inspection procedures. Use the following universal checklist to avoid overlooking important aspects of the aerial lift pre-start inspection.
If an inspection reveals any damage or other problems, these should be documented and photographed.
Aerial Lift Exterior Visual Inspection
Inspect the tires for damage and ensure they are properly inflated. Determine whether there are any loose lug nuts on the wheels.
Check all mechanical components: the guardrails of the aerial platform should be stable and the outriggers and stabilizers operational.
Check that all locking pins and other mechanical fastening components on the aerial platform are present and operational.
Review all warning placards and instructional and operational markings on the lower level and the platform for legibility.
Inspect the floor beneath the lift for visible fluid leaks (of oil, hydraulic fluid, coolant, or fuel).
Inspect personal protective equipment such as harnesses and lanyards, including their attachment points.
Aerial Lift Engine Inspection
Check the fluid levels for the fuel, oil, coolant, and hydraulic fluid.
Check that the battery water level is full and the terminals are clean.
Inspect the air, fuel, hydraulic, pneumatic, and electrical systems.
If using an electrically-powered scissor lift, ensure the battery is charged.
Aerial Lift Interior Visual Inspection
Check that the lower-level controls are working correctly and can override platform controls in an emergency.
Verify that guards are present on all lower-level and platform switches and mechanical controls to prevent them from inadvertently operating.
Check that all buttons, gauges, lights, limit switches, backup alarms, and horns are in operating condition. Verify that a working anemometer is present to measure wind speed.
Slowly accelerate, steer left and right, and decelerate to test the function of the steering and brakes.
Confirm that a copy of the operating manual is stored in the cab and is legible.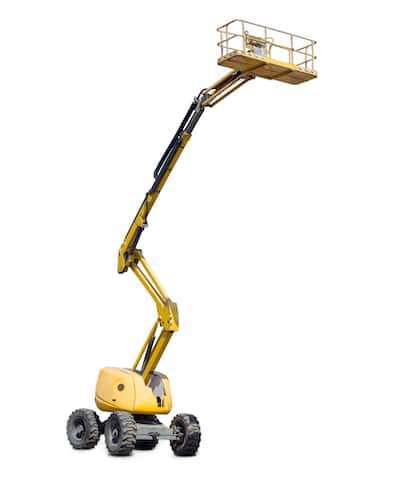 Aerial Lift Work Zone Inspection
Once you have inspected the boom lift, OSHA stipulates inspecting the work zone for any hazards.
Aerial lift operation is unsafe if it is windy (above 28 mph), raining, snowing, or if lightning is present. If such conditions are forecast for the next 12 hours, suspend aerial lift operation.
Check for any holes, drop-offs, uneven ground, unstable soil or gravel, or icy conditions which could cause the tires to slip.
Identify any obstructions on the ground, whether gates, bushes, equipment, or other blockages.
Determine high foot traffic areas in the vicinity that pose a danger of falling object incidents.
Check for overhead obstructions, such as trees, that could endanger people in the aerial platform.
Identify any overhead power lines in the work zone and keep at least 10 feet away from them. If possible, ask the power company to cut the electricity to these lines while your employees are in the area.
Stay away from any overhead communication cables.
If using an aerial lift or scissor lift for indoor tasks, check for slanted floors, low ceilings, electric cords or debris that could impede the wheels, and any oil or other fluid leaks on the ground that could make the tires slip.
Consult Manufacturer Safety Manuals
Different models of aerial lifts, boom lifts, and scissor lifts have different traits. As a result, although the checklists above apply, you should also consult the safety manuals accompanying each lift you purchase or hire.
The makers of these machines provide details in these safety manuals regarding the precise locations of various features that an inspection must cover.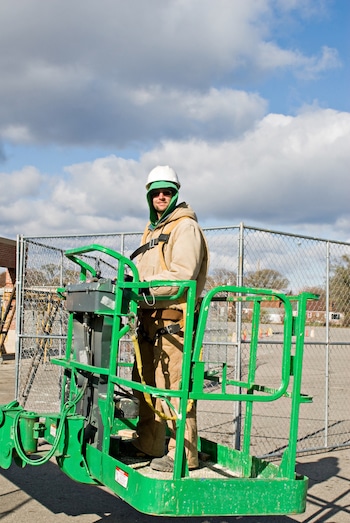 Operator Training for Safe Operation of Aerial Lifts
OSHA mandates that any employees who will be operating an aerial lift, or working on the platform, must receive safety training.
Operators should know how to perform an aerial lift inspection, understand the importance of doing so before every work shift, and show that they are familiar with how to operate an aerial lift before doing any work with one.
They should know what constitutes a safe operating condition and how to avoid or mitigate hazards, especially the chief dangers involved with aerial lifts: falls, falling objects, and electrical hazards.
When Should an Operator Receive Training Again?
You should give training regarding the safe operation of an aerial lift to any operators whom you observe operating an aerial lift incorrectly, in the event of an accident, or if any hazards are found relating to an aerial lift.
You should also retrain all operators if you purchase a new aerial lift.
The Need for Regular Maintenance
Like any other machine, a boom lift or scissor lift requires regular maintenance to perform at its best.
Maintenance ranges from routine tasks such as battery charging to repairing broken components when necessary. Refer to manufacturer safety manuals for details regarding the maintenance of a specific machine.
Battery charging should be done within a properly-ventilated area with adequate safety measures, such as a 10-pound ABC fire extinguisher on hand.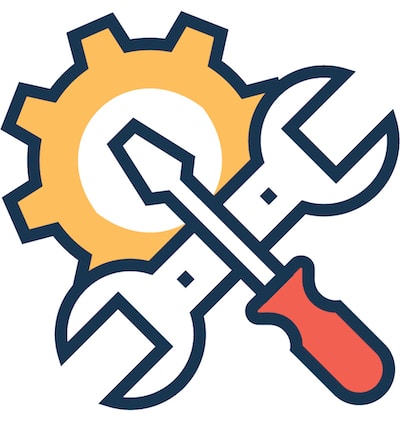 Maintenance Inspection Checklist
In addition to checking everything covered by the pre-start inspection, quarterly and yearly maintenance inspections should also examine the following items.
Any machines that have not been used for three months should also receive such an inspection of all their components.
Perform an inspection of the drive and turntable motors, torque hubs, and boom wear pads to ascertain whether any equipment is damaged, incorrectly installed, or not present at all.
Check all electrical components, including the battery, cables, and wiring harness, for signs of corrosion, wear, and fraying. Confirm that battery packs are in place, connected, and show no signs of leaking.
Check that all lights, gauges, alarms, and other emergency equipment are working properly.
Check lower-level safety equipment such as the seat belt and fire extinguisher.
Thoroughly check all lift components to verify that they are present and in good working order. No components should be cracked, dented, loose, show corrosion, or not be present.
Check hydraulic hoses and fittings for any sharp bends. Inspect hydraulic components such as the power unit, cylinders, and manifolds.
Keeping Records
Keep all records about any boom lift or scissor lift you operate for three years.
These should include all operator training documents, lift pre-start inspection records, and work zone inspection records.
All maintenance performed should be documented and backed up with photographic evidence. Verify that a qualified technician has carried out repairs and signed off on them.
Ensure that you document any safety incidents and the operator training required after such an event.
The Bottom Line on Aerial Lift Pre-Start Inspections
Aerial lifts are valuable and useful equipment, but they can be hazardous. To ensure the safety of the operator, any workers on the platform, and bystanders, always perform the appropriate inspections.
Any employee acting as a lift operator must be familiar with how to inspect the machine before the work shift. Any machines that fail an inspection must be withdrawn from service until they are fixed. Aerial lift inspections and regular maintenance are critical to the safety of workers as well as the longevity of the machine.