Scaffold Fall Protection Requirements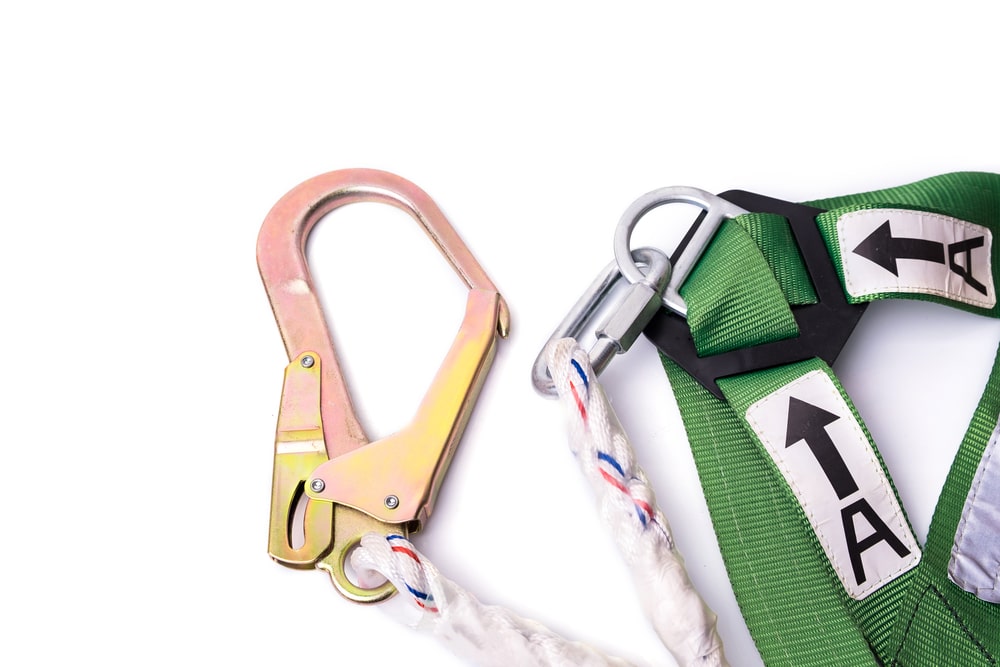 Whether it's window washing, construction, or shipbuilding, many industries require workers to perform jobs at height. Scaffolding systems provide temporary structures that allow workers access.
But safety professionals know that working at height can be dangerous. OSHA has a long list of requirements around how workers must be protected.
Following these scaffolding safety guidelines can be rough, so we've assembled a primer to help get you oriented with scaffold fall protection requirements. If you want to get your employees trained on scaffolding safety we have a full course for that.
What Is Fall Protection?
Fall protection refers to any equipment used to minimize injury in a fall, including guard rails and personal fall arrest systems. This contrasts with fall prevention, the equipment, and the systems used to prevent a fall.
Employers must provide fall protection to all employees who need it.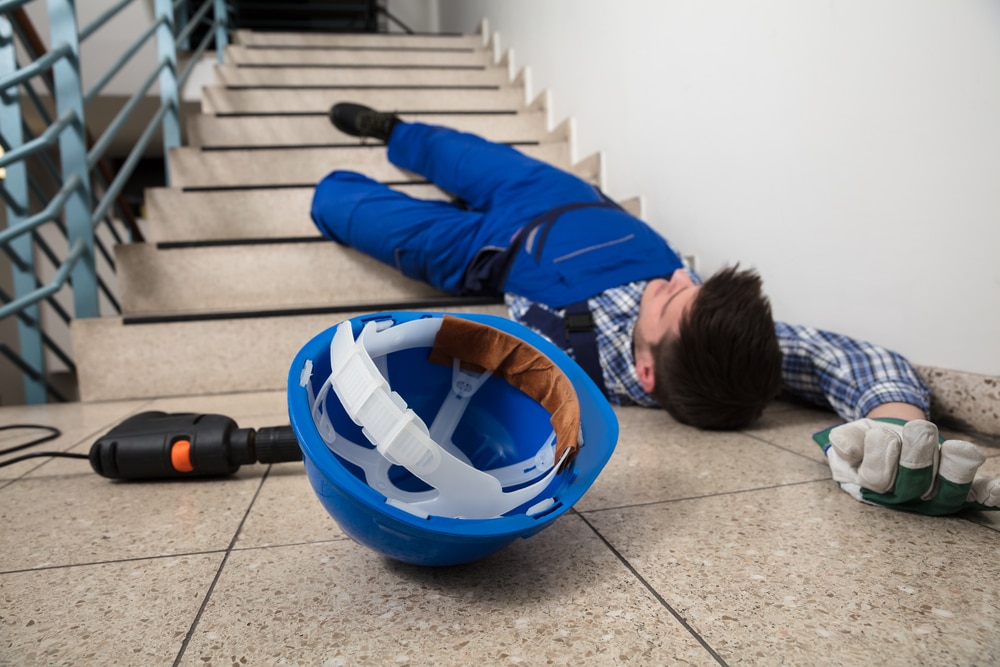 Types of Fall Protection
Depending on your industry, you may need to use one or more forms of fall protection. That's because the fall hazard can be different depending on what kind of platform is used.
Guardrail Systems
A guardrail is a rail around the scaffold platform that can prevent falls. The guardrail system should be between 38 inches and 45 inches off the ground.
A guardrail system should also support a minimum of 200 pounds.
Only three types of scaffolding require a guardrail system – a self-contained adjustable scaffold (a scaffold supported by its own frame structure), single-point suspension scaffolds, and double-point adjustable suspension scaffolds.
In most of these cases, a guardrail system must be used in combination with PFAS. This includes self-contained adjustable scaffolds when supported by ropes.
Guardrails can also be used on crawling board scaffolds, supported scaffolds (scaffolds consisting of one or more platforms supported by rigid beams), and others like a four-point suspension scaffold.
Crawling board scaffolds have a bit more flexibility – you can also use a grab line or an equivalent handhold securely fastened.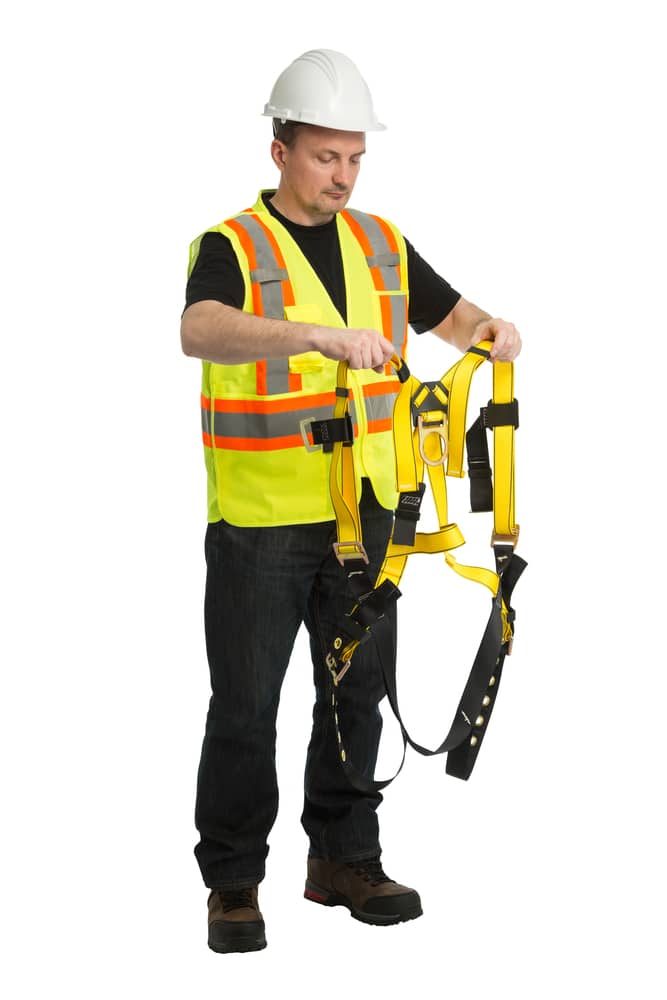 Personal Fall Arrest Systems
A personal fall arrest system (PFAS) is made up of various components designed to slow you down and redistribute the impact of a fall.
A full-body harness has straps around your shoulders, chest, and hips. A body belt is no longer allowed in lieu of a harness. In a fall, the belt can cause internal injuries to the pancreas and other organs.
Scaffolding harness regulations say that a personal fall arrest system should be used with most kinds of scaffolding. These include needle beam scaffolds, ladder jack scaffolds, float scaffolds, and catenary scaffolds.
Lanyards
A lanyard connects to both the body harness and the lifeline. You should only use expressly manufactured lanyards for fall protection purposes – no fashioning your own.
Many lanyards are equipped with shock absorbers. Like the shocks on your car, a shock absorber helps dampen any impacts.
Lifelines
Every personal fall arrest system should be attached to a lifeline. Lifelines can be either vertical or horizontal.
A horizontal lifeline is strung between two anchorage points on a job site. However, you'll need multiple lines in more than one location for workers to clip onto as they move up and down the scaffolding.
An anchorage point must be capable of supporting 5,000 lbs per worker attached. This may seem like a lot, but a fall can generate a lot of force.
A vertical lifeline is used with a lanyard with a rope grab. Again, the anchorage point should be able to withstand 5,000 lbs.
In contrast to horizontal lifelines, which can support several workers, a vertical lifeline is only for one worker.
Fall Restraint Systems
A fall restraint system is designed to keep you safe from fall hazards. It's essentially a leash that clips onto a belt or harness.
Fall restraint systems still require a secure anchor point. Though they are often used for other jobs at height (like working on a roof), fall restraint systems are less useful on many scaffold systems.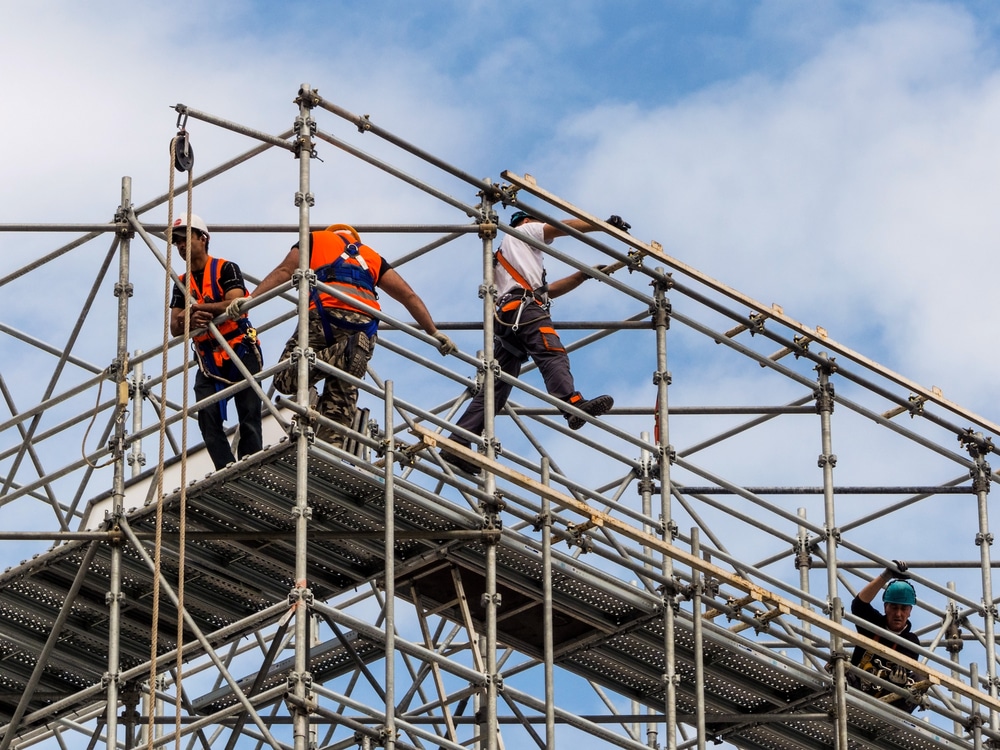 What Are the OSHA Requirements for Fall Protection on Scaffolding?
What OSHA Regulation Covers Scaffolds?
Scaffolding requirements don't have one central place in official OSHA documentation, but many rules can be found in §§1926.451 and 1926.452.
29 CFR 1910 covers further requirements for general industry, and 29 CFR 1915, 1917, and 1918 cover requirements for shipyards and marine scaffolding.
Broad Requirements
OSHA scaffolding requirements can be sorted into two piles – regulations that affect all industries and regulations that only affect some. These are sometimes called horizontal and vertical regulations.
Industry-specific regulations (like for the construction industry) always supersede broad rules.
The highlights of OSHA's broader rules include:
Fall protection is required if a worker is 10 feet or more above a lower level
Cross braces can be used as a top rail, but they must be between 38″ and 48″ above the work platform
Mid rails must be installed between the work platform and the top rail, between 20″ and 30″ above the platform; cross braces can be used.
Two straight cross braces cannot be used for both top rails and mid rails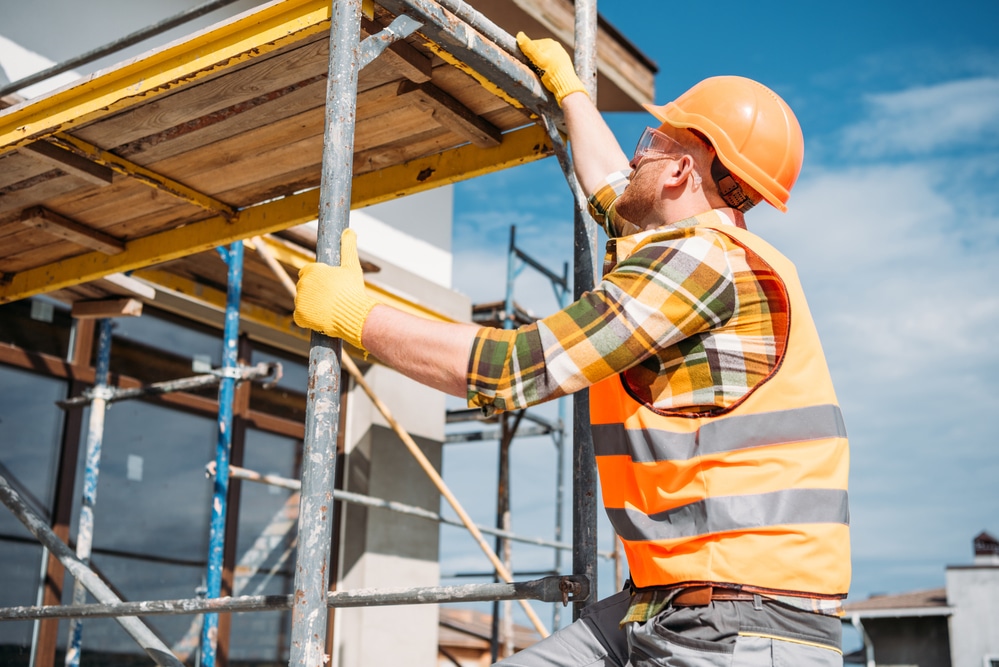 Industry-Specific Requirements
OSHA has several specific requirements for specific industries that build off of the general rules.
For instance, the 10′ height regulation is shortened to 4′ in general industry, 5′ in shipyards, and 6′ in general construction.
Don't assume that meeting the minimum OSHA requirements is enough. Employees must be protected by the standards that apply to their industry.
Capacity Requirements
OSHA scaffolding requirements dictate minimum standards for the capacity of scaffolding. Each scaffold and its components must support a load at least four times greater than the maximum intended load, including scaffold planks.
A qualified person should also design scaffolds. This is someone with a degree, certificate, or years of experience in scaffolding. They should understand how the scaffold components work together and affect the scaffold's structural integrity. OSHA has strict rules on who can design and inspect scaffolds.
Access Requirements
A worker should always be no more than two meters above or below an access point. Employees working on assembling or dissembling a scaffold should also have safe access points approved by a competent person.
The standard for a competent person is lower than for a qualified person. They're simply capable of existing and predictable hazards of the job site.
You can use multiple types of access, including:
A portable ladder
Attached and stairway ladders
A stair tower
Ramps and walkways
Pre-fabricated frames.
Cross bracing cannot be used as a means of access.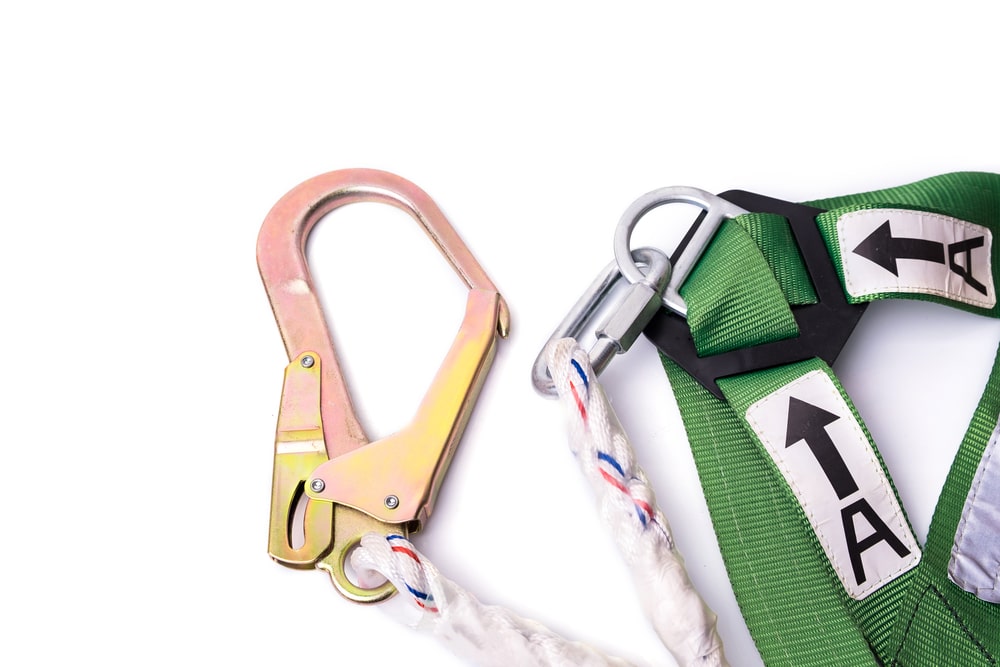 Falling Object Hazards
Dropped tools and falling debris are another cause of scaffold accidents. You should install catch platforms, debris nets, or another safety system intended to catch falling objects.
Employees must be protected by hard hats, as well.
Suspended Scaffolds
Suspended scaffolding has a few special regulations worth mentioning. These scaffolds are ones where there are platforms suspended by ropes or cables tied to the building.
Some common types are four-point suspended scaffolding (also known as masonry scaffolding) or two-point adjustable suspension scaffolding (sometimes called a swing stage.)
A suspended scaffold must be tied back to prevent swaying, and emergency escape devices can't pull double duty as work platforms.
OSHA Violations
OSHA violations can be harsh, especially for a small business. When it comes to scaffolding safety, inadequate fall protection ranks among the most frequently cited violations.
Jobsite owners and managers are charged with providing fall protection to all of their workers. To do otherwise can be expensive.
Scaffolding Safety Training
All workers who use a scaffold should receive scaffold safety training from a qualified person. Training should include the hazards of working on a scaffold (including electrical hazards) and proper equipment handling.
Retraining should occur anytime there's a change to the worksite or scaffolding or if an employee is caught not using scaffolding safety best practices.
Training requirements are higher for a worker charged with assembling, dismantling supported scaffolds, or maintaining existing scaffolds. A competent person must train these workers.
Help from OSHA
If you need help getting your job site up to OSHA regulations, you can request help. OSHA can provide consulting assistance or enroll you in a voluntary protection program.
In both cases, you'll receive direct assistance from OSHA staff on the fall protection needed at your job sites.
Final Thoughts
Training is the most important part of the puzzle regarding workplace safety. If you want to make your OSHA scaffolding training more active and engaging, it's time to implement OSHA-approved safety videos into your workplace training.
It's easy, affordable, and can save lives. Let's get your training practices up to date!